You can integrate your Salesforce with OneDesk
After installing and configuring the Salesforce-to-OneDesk connector, salespeople can accomplish two very important use-cases:
They can capture customer feedback, ideas, bugs, and questions without leaving the Salesforce environment…and have those customer inquiries automatically synchronize to OneDesk. Inside OneDesk, issues can be resolved, questions get answered and ideas get transformed into requirements.
As the status of the request is updated in OneDesk, that status is reflected in Salesforce, so the salesperson can keep the customer informed without leaving salesforce.
Keep team members, business partners and customers in the loop.
To configure your Salesforce integration in OneDesk:
Under your personal menu (upper left hand corner) select the administration menu
Click the integrations tab
Click on the Salesforce Connector tab to view more information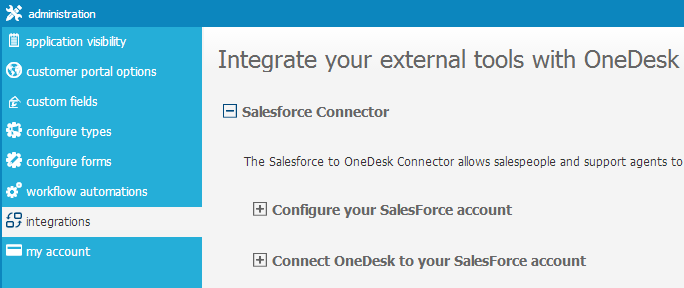 Click here to learn more about our Salesforce-OneDesk connector.