If you use Microsoft's Team Foundation Server (TFS) to manage your code, you'll be happy to know that OneDesk has an integration to fit into your development process.
Our Team Foundation Server Integration streamlines workflow and allows your code management, requirements management and project management to connect seamlessly.
Features:
Manage your issues, tasks, requirements, and support tickets in OneDesk, while continuing to manage your commits and code repository in TFS.
Link specific work items managed in OneDesk to the specific changesets or check-ins in TFS that resolve them.
Easily see relevant changesets including information on author and comment from within OneDesk.
With a single click, open the changeset within TFS where you can access the relevant files, file contents and diffs from previous versions.
Compatible with VisualStudio version of Team Foundation Server.
How It Works:

In the project management applications, your tasks, issues and user stories now have a new linked item type named "change sets".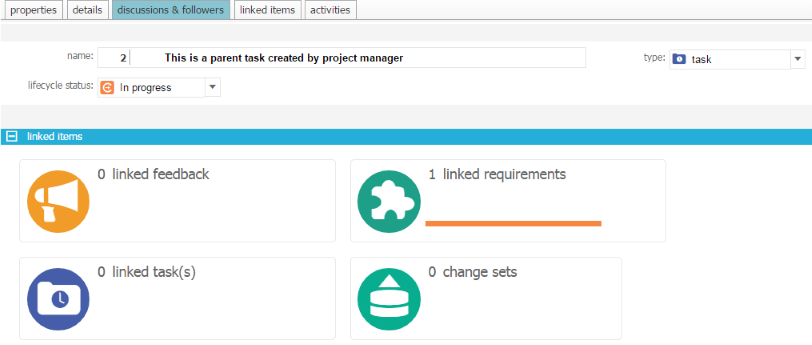 When you click on this link a new panel opens where you can link to recent changesets pulled from your TFS repository.
OneDesk saves the linked changesets and provides a direct link to the changeset within TFS.
Future users can quickly see a list of the linked changesets on any OneDesk item, and click through to TFS to learn more.
The OneDesk TFS Integration is also compatible with VisualStudio.com. In order for it to work, you must add "/DefaultCollection" to the end of your URL. It should look something like this: https://your_tfs_server/tfs/DefaultCollection
For detailed instructions on setting up your TFS integration click here.
Benefits:
Connect your task management to your source code repository.
Blend both traditional waterfall and agile project management into your workflow.
Connect your requirements management and product management processes to your source code to provide full traceability in your software development process.
Connect your customer support to specific development work by linking trouble tickets and bug reports to the tasks and source code changes made to fix the issues.
Click here to learn more about our Team Foundation Server connector.