Plan + Build + Support

Plan products & roadmaps.

Build projects & fix issues.

Support customers & get feedback.
A single platform for product management, project management, and customer service.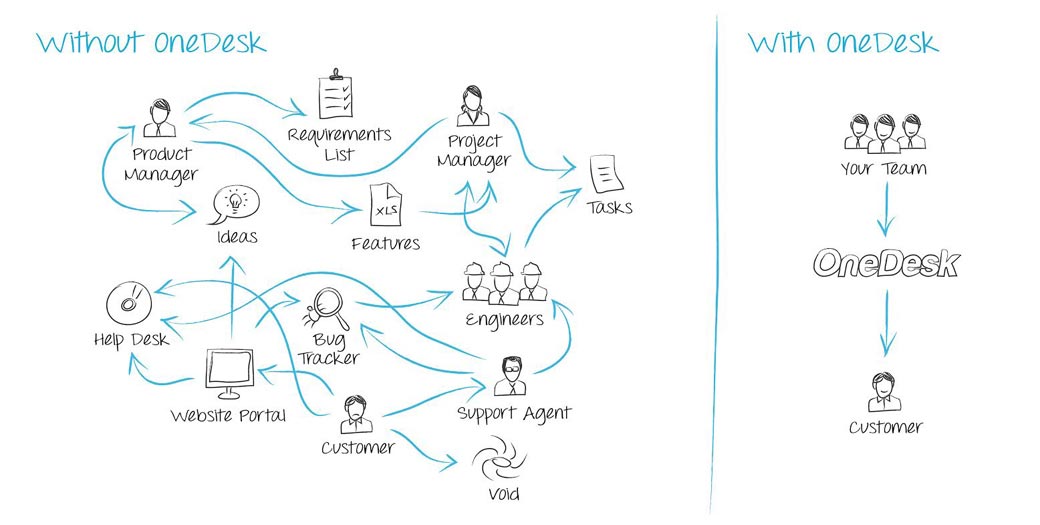 OneDesk Complete
The complete package! Get all the features of OneDesk's Product Management, Project Management, and Customer Service applications in a single platform.
learn more
OneDesk for Product Management
Streamlined product management: Capture and manage ideas, stories & requirements. Build releases, create product hierarchies and share plans in progress.
learn more
Capture enhancement requests
Capture ideas and feature suggestions by email, website portal and more.
Develop, analyze & score requirements
Add details, attach documents, and score requirements on ROI, votes, ease-of-effort and more.
Plan releases and build roadmaps
Add structure to your products and releases, and create roadmaps.
Stay connected to the development process
Product changes are directly connected to development tasks and customers, keeping everyone in the loop..
OneDesk for Project Management
Project management and collaboration for teams: Advanced features that combine Agile and traditional project management in one application.
learn more
Views for both traditional planning and agile execution
Combine the detailed planning of traditional project management with the easy-to-use agile tasks boards.
Gantt charts, scheduling, and resource assignments
Connect dependent tasks; see who is overloaded and who is not; calculate when the project can be finished.
Discussions & notifications on tasks & issues
Make sure interested team members are notified when assignments change, status changes, and more.
Worklogs and reporting tools
Easily record timesheets for work performed, and generate the performance reports you need to make sure the project is on track.
Integrations for TFS, Jira, Salesforce, and more
Connect OneDesk to your development tools and sales applications you already use.
OneDesk for Customer Service
Connect with your customers: Engage with and support your customer community. Manage feedback, support tickets, and other customer interactions.
learn more
Customer portal for your website
Easily add a portal to your website, where customers can submit tickets, give feedback, discuss and vote.
Receive feedback by email
Forward support emails and other customer communications to your account. OneDesk captures, classifies, and lets you respond to it.
Integrated discussion and collaboration
Collaborate on tickets and feedback with private internal discussions, directly with the customer, or to all your customer-base. You decide.
Transform ideas and tickets into requirements and tasks
Make sure good ideas, issues, and feature requests are heard, and that the customer knows they are heard.
Get started with a 14-day free trial of OneDesk.
No credit card required.