New component provides key collaborative bridge between product management and customer support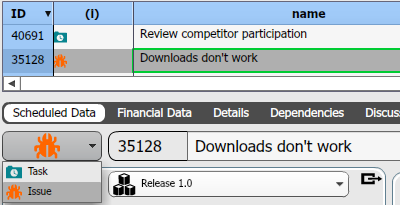 MONTREAL, Nov. 30, 2011 /PRNewswire/ – OneDesk Inc, provider of the world's first all-in-one solution for product managers, innovators, engineers, marketers andcustomer support is pleased to announce the expansion of its flagship product to include integrated Issue/Defect Tracking & Management. OneDesk's cloud-based Product Innovation & Management Suite combines Social Media Monitoring & Engagement, Customer Feedback Management, Idea/Innovation Vetting & Scoring, Customer Service/Help Desk, Product, Project and Requirements Management and Roadmapping. With the addition of new Issue/Defect Tracking capabilities, OneDesk further expands the solution's unique cross-functional collaborative power.
Track issues and tasks together. OneDesk's Issue/Defect Tracking module allows users to create, update, and resolve reported issues and defects all from inside the OneDesk collaborative environment. Tightly integrated within the full suite, the new component allows users to view tasks and issues in a single combined view. This gives product people the flexibility to develop release plans that include new requirements and standing issues all within a unified project space.
"One of the challenges companies face in establishing requirements for a coming release is balancing the demands of new features with fixes to the current set already in the product," said Derek Gold, Vice President of Product Marketing at OneDesk. "Too often the focus on new capabilities obscures the need for resolutions to often less glamorous, but equally critical issues of product stability and performance. By integrating Issue/Defect Tracking & Management, OneDesk delivers an important new layer and a more realistic perspective for product planners."
Integrated Issue tracking & Management allows users to:
Create issues from customer feedback with a single click.
View product roadmaps that combine both new feature development with defect fixes.
View ALL the work that is required for a release in a single view.
Have full traceability across the product project – link feedback, requirements & support tickets to issues & tasks.
Combined with OneDesk's existing applications, this feature facilitates alignment of organizational strategies with marketplace needs, improves time-to-market, reduces risk and lowers product costs. Teams of all sizes can keep all projects, defects, updates, issues, and new releases organized.
About OneDesk
OneDesk is leading the market in providing products that help companies realize the benefits of social product development, co-creation, and customer-driven innovation. This blended suite of SaaS applications incorporates powerful tools: social media monitoring & engagement, customer feedback management, innovation & ideas management, customer service & help desk, requirements management, project management, product road mapping and release management.