How to easily capture and manage all customer emails with OneDesk.
If customers send you support requests by email, you can still manage them with OneDesk.
Have your customers send their support requests, or just forward emails to:
support@(your organization).OneDesk.com
The support issue can then be found in OneDesk under the help desk tab. You can then automatically categorize them based on their type, and assign them to team members across your organization.
You can also capture and manage feedback, problems, questions, leads, and compliments that you receive through email.
When customers (or colleagues, or external partners) email you feedback, ideas, problems, compliments, and questions, you can just forward them to OneDesk and easily manage them within the application.
Forward your emails to:
questions@(your organization).onedesk.com
problems@(your organization).onedesk.com
ideas@(your organization).onedesk.com
leads@(your organization).onedesk.com
compliments@(your organization).onedesk.com
feedback@(your organization).onedesk.com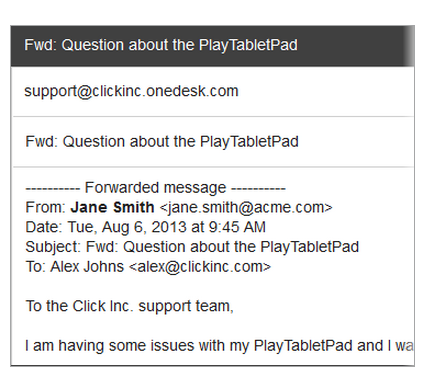 The emails will show up under the appropriate tab in OneDesk. Those sent to the questions and problems emails will show up in the help desk view. Emails sent to ideas will be found in the ideas view. All other type of feedback, leads and praise will arrive in the feedback view.
You can then start managing them by classifying them in the appropriate project and assigning them to the appropriate person.
Learn more about capturing customer emails with OneDesk:
Related blog posts:
Manage Customers in Crisis
Support cases: Managing and filtering them in OneDesk
using Customer Feedback To Improve Your Products