In a previous blog post, we explained the concept of social customers. Social customers are customers who are no longer passively using products or services, but who are actively using social channels to connect with companies and other customers.
Social customers are on the rise and as the infographic below shows, they expect companies to provide a social customer experience.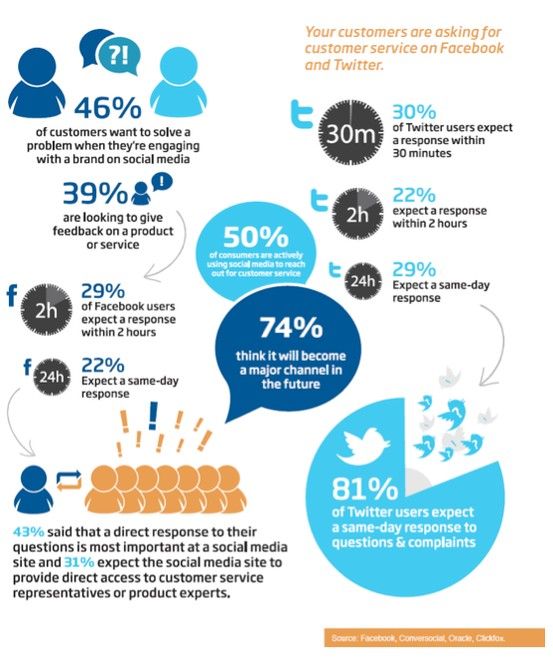 Tips on providing a social customer experience
Set up social media channels in your company
This allows customer to publicly talk about your product or service. Your company may be hesitant to use social media in fear of having negative customer comments out in the open. However, this can be beneficial to your company. If you receive negative comments, you can publicly respond and resolve the issues. This way, you will in turn get publicly recommended by your customers.
Implement social customer service
Train your customer service team to use social media to leverage customer comments. Take the comments and pass them on internally and create customer-driven products or services.
Show customers you are listening to them
If a customer emails you with a complaint or suggestion, chances are you will write back and let them know you are taking care of their issue. The same thing should happen through social media. If a customer Facebooks or Tweets about your product or service and you happen to see it, respond to them. By thanking them for their compliments or asking how you can help resolve a problem, you are increasing customer loyalty.
Engage with customers
Make customers feel important. Engage with them and provide a way for them to engage in two-way conversations with your company. Customers use social channels because they want to connect and expect a response from companies they reach out to – don't ignore them.
We want to know: How does your company create a social customer experience?
Related blog posts:
Product management and social customers
Social Customer Service/Community Management
Social customers: Who are they?