Whether your focus is Project Management, Product Management or Product Marketing you can use OneDesk to develop and deliver better products to market faster.
Creating requirements from one or more pieces of feedback
As a product professional, you must select and create product requirements that not only meet customer needs, but that also align with short-term and long-term organizational strategies. This process can be tedious, often involving the creation of datasheets packed with detailed information. With OneDesk, you can eliminate hours of manual data entry with a single click of a button.
Yes, it's that simple.
Creating requirements is very easy:
– Open the feedback tab within your Project.
– Select one or multiple feedback items (To select multiple pieces of feedback at a time, hold down the CTRL or SHIFT key while selecting them.)
– Click on the "Create Requirement" button located in the menu above. A window will appear that will allow you to name your requirement. Then, click "Create" and you are done!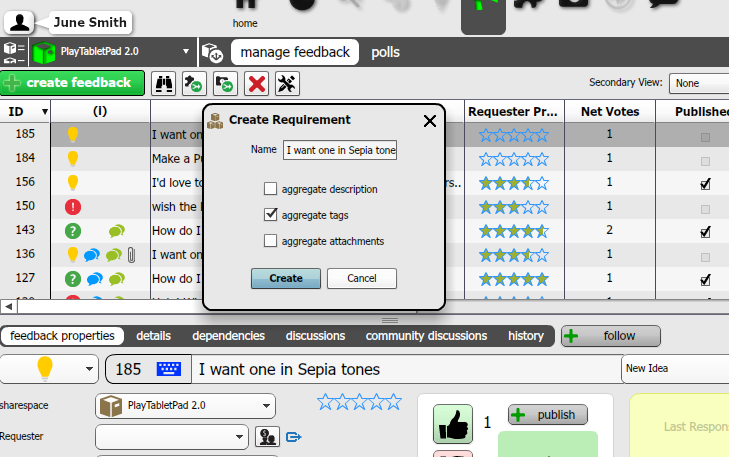 OneDesk's requirements management capabilities also allow you to:

– Generate product requirements from organizational goals
– Keep the whole team connected with customers, business partners and other employees across the organization
– Move through the different phases of development at the speed of light; from ideation to execution.
– Create tasks and connect them to their corresponding requirements and share them with your colleagues.
– Simplify the decision-making process by reporting more accurate estimates and complete requirements.
Want to see OneDesk in action? Sign up for your free account and get started today.
Related blog posts:
Popular ideas: Easily reveal what customers want most
Innovation technology for your business
Five Software Requirements Process Facilitation Tips
How to prioritize requirements with OneDesk