Helpdesk Portal Software
A helpdesk portal serves as a self-service platform for customers and internal employees within an organization. In its core, a portal is an information centre for end-users, enabling them with self-help resources to common technical problems. The self-guided resources enable users to resolve errors themselves, eliminating long call wait-times. As a result, agents can focus on more urgent tasks at hand and only assigned tickets when deemed necessary.
Helpdesk Portal Benefits
| | |
| --- | --- |
| Increased Productivity |  Greater Transparency |
| Higher Customer Satisfaction | Improved Communication |
| Faster Ticket Resolution |  Reduced Workload |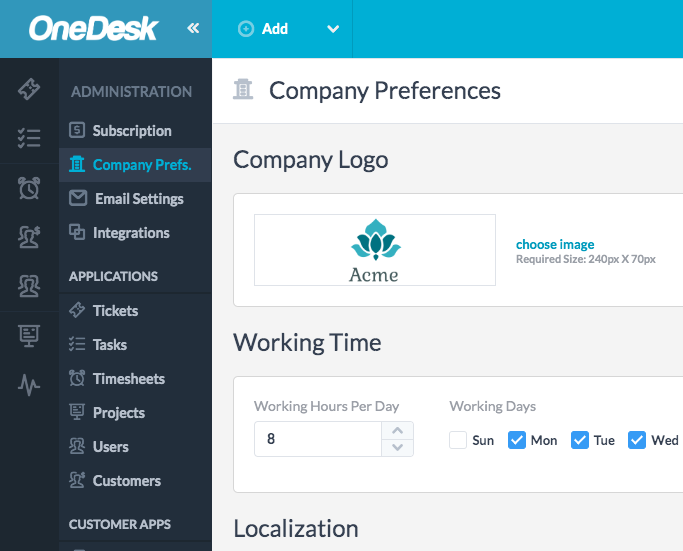 OneDesk Helpdesk Portal Software
OneDesk Helpdesk Portal Software is highly configurable. You can brand your portal with your company logo and colours and make it your own. Add your native language to your customer applications to better serve your customers worldwide. Personalize your messenger application, choose a background image or your company logo, create avatars for your online support team. Humanize your communication by attaching photos of your support agents to add a face behind the screen.
Helpdesk Portal Tools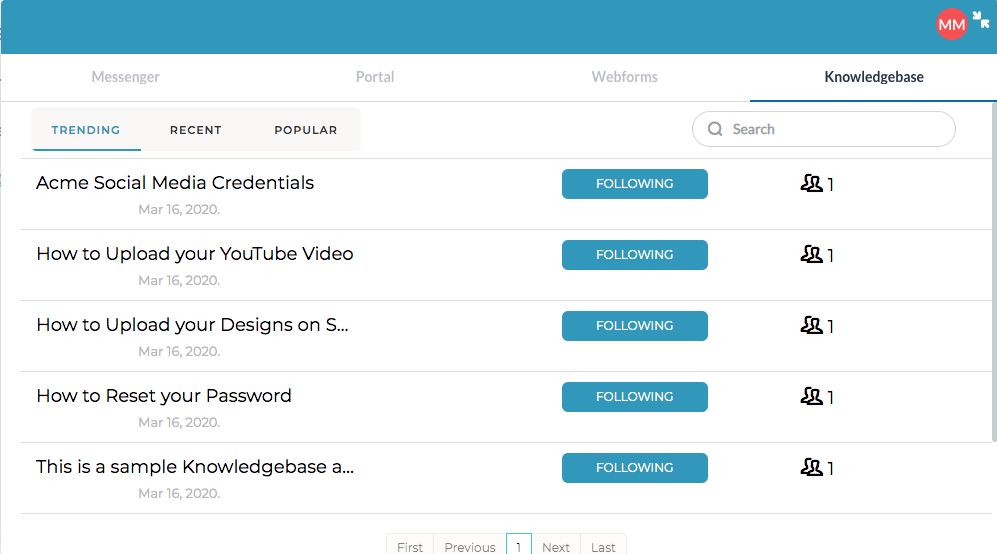 Knowledgebase:
The OneDesk Knowledgebase application is a self-help application to discover answers to frequently asked questions. The Knowledgebase is a hub for direction based articles or training modules that empower users to resolve technical problems without seeking help from support agents. You can upload videos or even create knowledgebase ticket types to answer similar questions. These ticket types can be organized according to search categories. These categories can also be used as the statuses for the knowledgebase articles.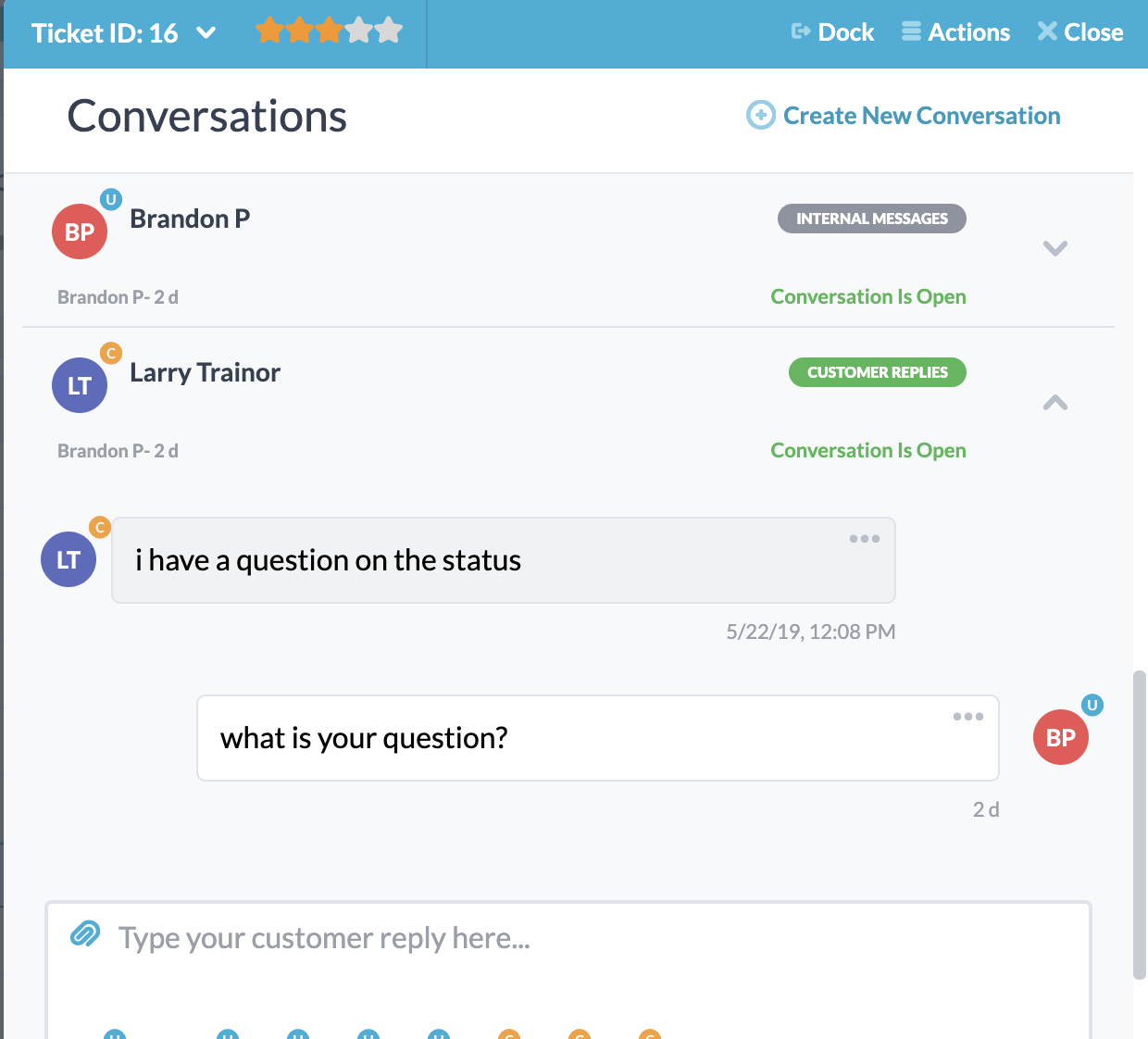 Live Chat Application:
Livechat allows you to connect with your customers in real-time. Through live chats, support agents can quickly uncover customer main points and take measures to resolve them immediately. You and your team can create BOT replies to keep your customers in the loop, eliminating the need for support agents to manually key in responses. For instance, you can use BOT replies to notify users when tickets are created or in case of a status update to signify the progress of the request. In OneDesk, BOT replies are created through Workflow Automation.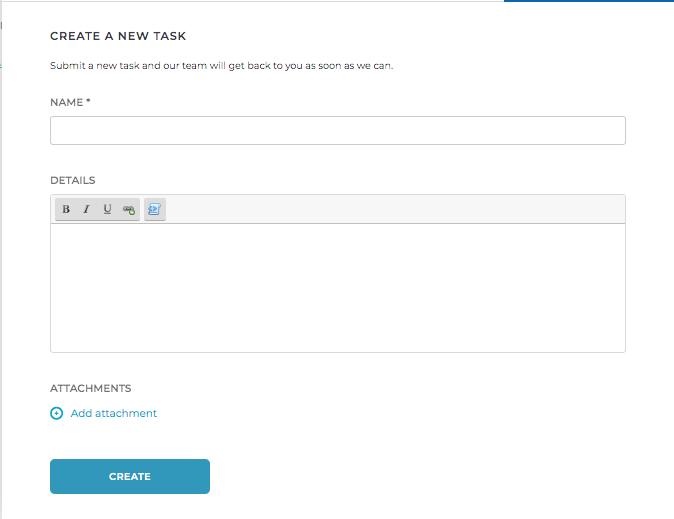 Webforms:
You can create webforms for each ticket or task type. Webforms include general properties such as name, details and attachments. These fields can be selected as requirements to send in customer support requests. You can add custom fields to your web forms to include additional ticket details to your customers or, in turn, receive more information from the author of the ticket. Name your custom field based on the information you seek from the ticket requester. You can select from the five standard types of custom field options: text, number, date, cost or choice to create your custom field for additional information.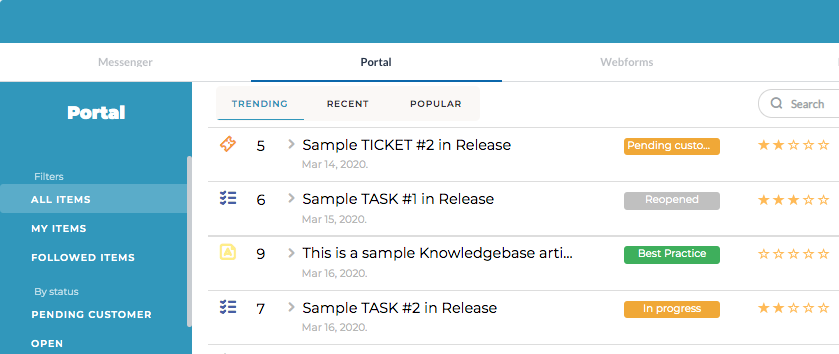 Helpdesk Portal Systems
The portal provides information to customers about their support tickets. Based on what you share and for security purposes, you can decide if the customers need to login to view the items. Those viewing the portal will only have access to see the features that you and your team share. For instance, the viewing option could be limited to self requested items or according to customer organizations. There are more viewing options available in OneDesk's portal. Team members can select the best criteria according to the viewing audience.
Since the portal provides the viewer with status checks and serves a ticket progress tracker, you and your team can choose the features and properties you want to display. The features include filter panels that allow the viewer to decide if they're going to view self requested items or all items that they are following. Items can be tracked according to status, projects or item type. OneDesk portal features also allow users to see ticket type according to its sorting type: trending, recent and popular. You can choose properties that the ticket requester can view. Properties such as percentage complete, priority and more are available for you to select based on your customer types.
You can easily create your website portal by pasting the javascript on your website pages. By going to your administrative settings in OneDesk, click on customer applications and scroll down to find Put the Customer App on Your Website. Click on Generate Snippet and paste the javascript on your web page.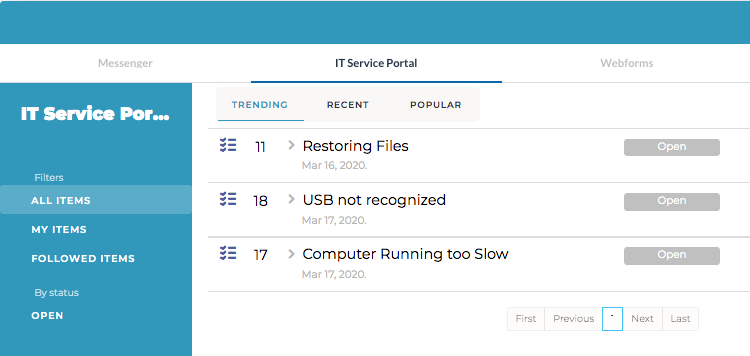 IT Service Portal
Create an IT Service Portal for internal employees to submit support tickets or view the status of their requested item. Internal employees can be directed to the Knowledgebase application to follow the step by step articles or modules to commonly asked questions. This eliminates call times or lengthy email threads to communicate the problem. It also provides users to self resolve simple technical issues and enables agents to focus on more critical tasks. The IT service portal could display the updates on the employee requested support ticket. For instance, viewers can check the changing lifecycle statuses of their support ticket and gain an idea of how the IT team is taking steps to resolve their ticket.

Helpdesk Customer Portal
By creating a helpdesk customer portal, you are notifying your customers about the measures you're taking to resolve their issues. A customer portal provides greater transparency in your workflow and allows your customers to remain more informed about the progress of the request. Properties such as service level agreements, duration, costs, percentage complete can be displayed to customers. The customer portal can offer different kinds of viewing options other than self requested and requested on behalf of your customer's organization. Requesters can monitor followed item or view all published resources.
ONEDESK - FREE 14 DAY TRIAL
Sign up and try out OneDesk for yourself. No credit card required.