Live Chat Application
Engage with your team members and customers. The OneDesk live chat application enables organizations to communicate with their customers and serves as a tool to promote team collaboration. The live chat application benefits your business in several ways:
Reduced Operating Costs 
Live chats results in lower operating costs. Support agents can serve multiple customers at the same time, reducing the need to hire more agents.
Discover Customer Requests 
Live chat applications enable customers to ask questions in real-time. Support agents can understand customer pain-points and make attempts to resolve them immediately.
Faster Resolution Process 
Resolve common questions by uploading step-by-step articles and videos in the knowledgebase application. Support agents can simply paste the link of the article in live conversation, providing faster resolution to customer requests.
Become More Accessible 
Live chats allow your customers to reach out directly. It also serves as a tool to showcase your willingness to help customers with their problems. By becoming accessible to your customers, you improve their experience.
Brand Loyalty 
Live chats provide faster resolution to customer requests. Customers feel more at ease in reaching out to companies that offer support immediately. By offering assistance instantly, companies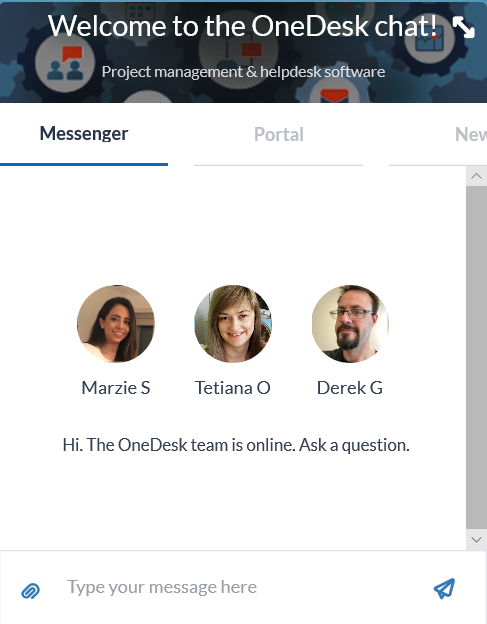 Live Chat Application for Helpdesk
OneDesk provides live chat functionality with helpdesk support. Provide your support team with an all-inclusive solution that incorporates live chat and ticketing software to better manage the complete support cycle. Simply add a small snippet of JavaScript on your website to allow your customers access to the Live Chat application. Enable or disable the live chat application from your account administration panel. You can customize many aspects of your live chat application from your account administration settings.
Brand your Live Chat Application
Add your company logo, select a customized logo, or showcase your company name itself on your live chat widget.
Choose your Company Colors
Brand your live chat application with your company's colors. In OneDesk, you can customize the primary color of the application along with the secondary button color, main text, secondary text and body color.
Multi-Lingual Support Settings
Operate your OnDesk application in your native language. Download the custom language template and attach your custom file to modify the text and translate the live chat widget.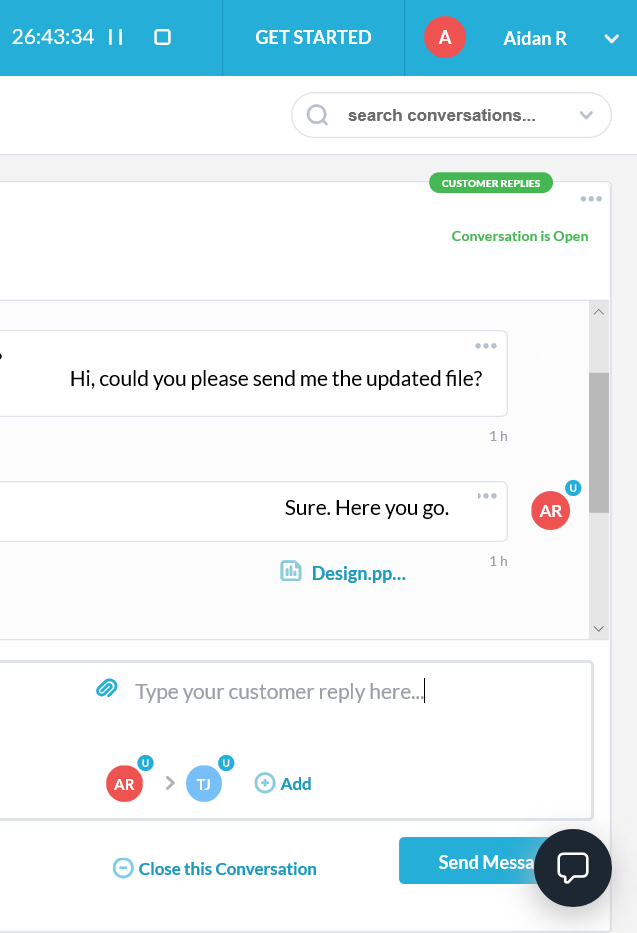 Live Chat Support Software
Eliminate Long Email Threads
Eliminate emails as your first point of contact. OneDesk's built-in live chat software allows you to connect with your customers in real-time. Chats are easy to follow, providing your agents with the complete timeline of past messages.
Timeline of Past Messaging
A historical record of past messages allows you to understand your customer requests and resolve tickets faster. Message history allows you to make better decisions and give you all the information about past projects and discussions.
File Sharing
Share files or folders through the OneDesk live chat application. Serve your customers better by sending essential documents via live chat. By receiving relevant documents instantaneously, customers can have easy access to documents they need.
Capture Tickets from Conversation
Support agents can capture tickets from client conversations. This allows the support team to link the conversation for reference when working on the ticket.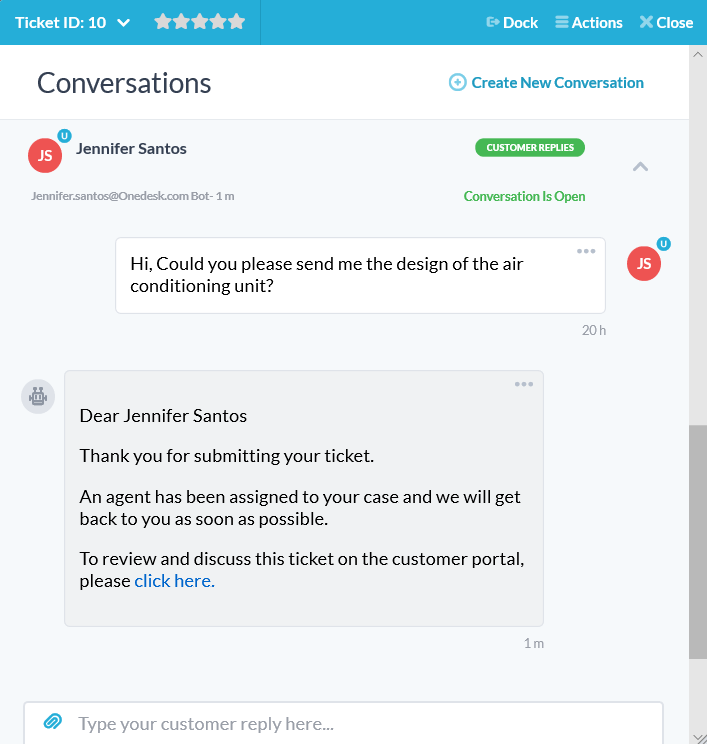 Provide World-Class Customer Service
Live Chat Help Desk Chatbot
OneDesk's help desk chatbot is easy to configure. Customize your welcome message, personalize your automated response when online or offline, and add an avatar to your chatbot. Keep your customers updated every step of the way and reduce repetitive work for your support teams and agents.
Automated System Emails
Inform, persuade and remind your customers with automated emails. In OneDesk, you have the option to create your own messaging inside all your automated emails.
Unlock Knowledgebase Benefits
OneDesk incorporates a Knowledgebase to help you serve your customers better. The Knowledgebase app allows you to upload articles or videos, responding to commonly asked questions. It serves as as a self-help portal for all customers. As a result, your support team is focused on solving the tasks that require personal intervention.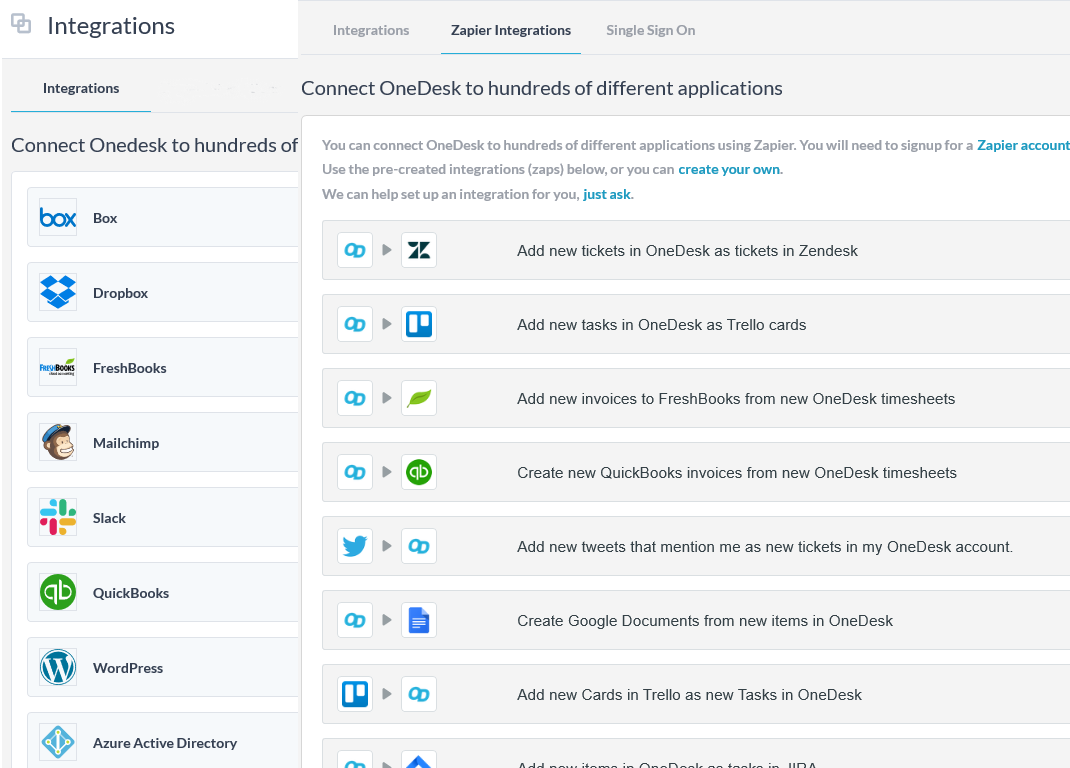 Enterprise Collaboration Tools
Single Platform
OneDesk provides a single platform where you can accomplish all your tasks. Focus on your work in one application, instead of juggling multiple programs and tabs.
User Friendly Interface
As a highly intuitive application, OneDesk can be easily operated by users with different computer proficiency levels. OneDesk is easy to use and is quick to learn.
Highly Integrative Application
OneDesk also has built-in integrations with many popular applications. You can also integrate with more applications using our Zapier plugin.
Company-Wide Access
As a combination of project management software and helpdesk support, OneDesk can be accessed by different departments within the organization. For projects that require cross-departmental collaboration, tasks can be broken down and divided among different assignees. This way, company-wide projects can be better managed.
Centralized System
Large corporations with subsidiaries benefit from a centralized system. OneDesk organizes all projects into categories and subcategories. For instance, each company can have its own portfolio containing projects. The projects serve as a container for tasks and tickets.
Eliminate Emails
OneDesk's chat features helps your team overcome problems related to email. Keeping track of long email threads is difficult. By incorporating chat, team members can solve problems instantaneously and collaborate easily.
Team File Sharing
Team members can share documents and videos via the chat application. Instead of collaborating through one-on-one meetings, teams can discuss and solve problems through the messaging application.
ONEDESK - FREE 14 DAY TRIAL
Sign up and try out OneDesk for yourself. No credit card required.