In OneDesk, you can have conversations by adding messages to tickets and tasks. When you do this, the followers of those items will get your messages via an omni-channel messaging service: by email, inside the 'messenger app' inside OneDesk, on the live-chat widget, and by mobile push notification (coming very soon).
However you can also use the OneDesk messaging system to have conversations with users outside of the context of a task, ticket or project. These unattached direct-messages will go out to the users or customers you choose, via those same channels.
How to create a direct conversation with a team member (internal user)
Click the 'add' button and either select 'Conversation With User' or 'Conversation With Customer'.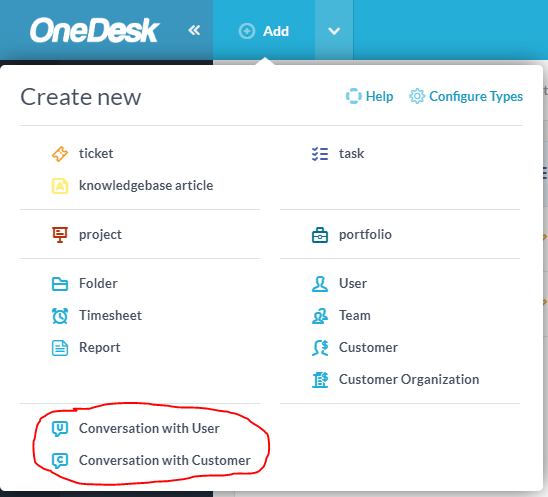 If you select 'Conversation With User', it will navigate you to the messenger application, in the 'Internal Sent' view, and create a new conversation. If you change your mind, you can cancel this conversation by clicking the "X".
Next, you select who you want to have this conversation with. You can type the @ sign to start adding people or you can click the "add" button below. You can include one or more users.

When you click 'Create New Conversation', the message is sent. The recipients will see the new message in their 'Internal Inbox' and depending on their notification settings, they should see a bubble indicating they have a new message. If they don't see it within one minute, it will also be sent to them by email. These messages between users are only visible to the participants, and you cannot include customers in these conversations.
How to create a direct conversation with a customer
Creating a 'Conversation with a Customer' is similar except that you will see it in your 'Open Conversations' view. From the customer's perspective, they will get this by email unless they are currently logged into the live chat, in which case they will see it there.
When having conversations with customers you can include as many as you want, as well as any internal team members you want kept in the loop.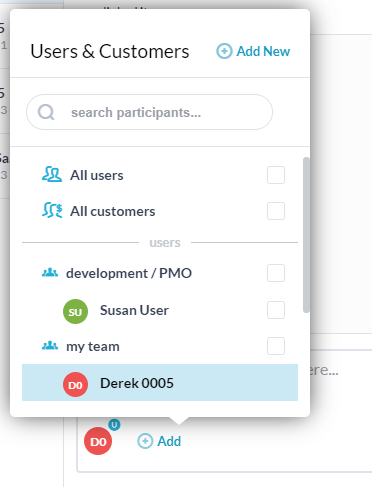 Watch a video on direct messaging in OneDesk