Automated Bot Response
Inform, Communicate, Support
OneDesk's automated bot lets you display information to your customers based on triggers set by you. These bot responses, and the bot, are customizable to fit your needs. 
Keep Customers Informed About Their Requests
Customers expect to be kept in the loop about any updates or changes made to their requests. The bot can help with that. OneDesk's bot can send updates to your customers at any interval or after any update that you set, allowing you to keep them informed and, in turn, to lessen the questions you receive from them about status updates.


Customize Name & Avatar to Fit Your Brand
OneDesk's Automated Bot can be your own. In the administrative settings, you can set the bot's name and avatar to fit your company's branding. You could also set the bot's name and avatar as a real employee, to make it appear more human-like to your customers.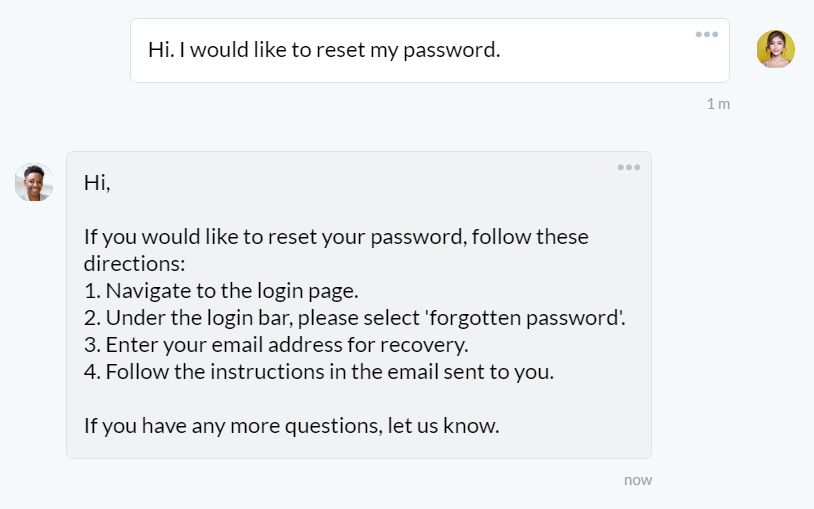 Create Responses Based on Keyword Triggers
Your bot can send automated responses to almost anything; the only limit is your imagination. This allows you to tackle customer questions automatically and lessen the burden on your customer support team.
Getting multiple questions about an upcoming event? Create a trigger that lets the bot shoot back the most requested information about the event. Customers requesting contact information? Create a trigger, and the bot can reply with all the ways your customers can get in touch with you. Too many questions asking for password reset help? Created an automated response to provide the correct steps for your users to reset their passwords.
Provide Important Answers to Customers Even When Offline
Your customers have important queries, and sometimes they ask them when you're off of work. Don't let them wait for your return. The Automated Bot can be configured to answer important customer requests while you're away, ensuring your customers don't have to sit around and wait for your return to get their requests handled. 
ONEDESK - FREE 14 DAY TRIAL
Sign up and try out OneDesk for yourself. No credit card required.