OneDesk Messenger Application
Keep in touch with everyone you need and host customer & team conversations where you need them, when you need them.
OneDesk's internal messenger system allows you to weave communication into your workflow. Wherever you are in the OneDesk application, our messaging system makes it easy for you to connect with team members, managers, and customers. Host your conversations in the messenger app directly or alongside your tasks, tickets, and other work items. Having access to everyone at your fingers helps minimize miscommunications and lets you provide better service.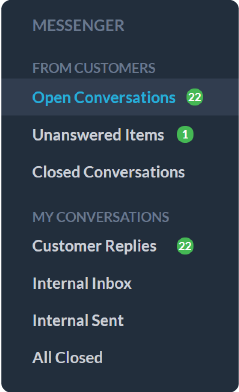 Easily Find the Conversations You Need
The OneDesk messenger apps make it easy to find the conversations you need. Conversations are grouped to allow for easy browsing and to help you find the messages or the information you require. It also has a section for closed or archived conversations. Your conversations are categorized into a few different tabs:
From Customers
Open Conversations
Unanswered Items
Closed Conversations
My Conversations
Customer Replies
Internal Inbox
Internal Sent
All Closed
OneDesk's Messenger also includes a built-in search feature. With this feature, you can search through your current and past conversations to find the information you need. 
---
Stay Connected with Your Team & Customers
Keep your team and customers on the same page by holding conversations with teams, individual team members, or customers. You can carry internal and external conversations and add others quickly. When you add a team member, they get notified with a ping sound in their OneDesk, letting them know they're part of an active chat.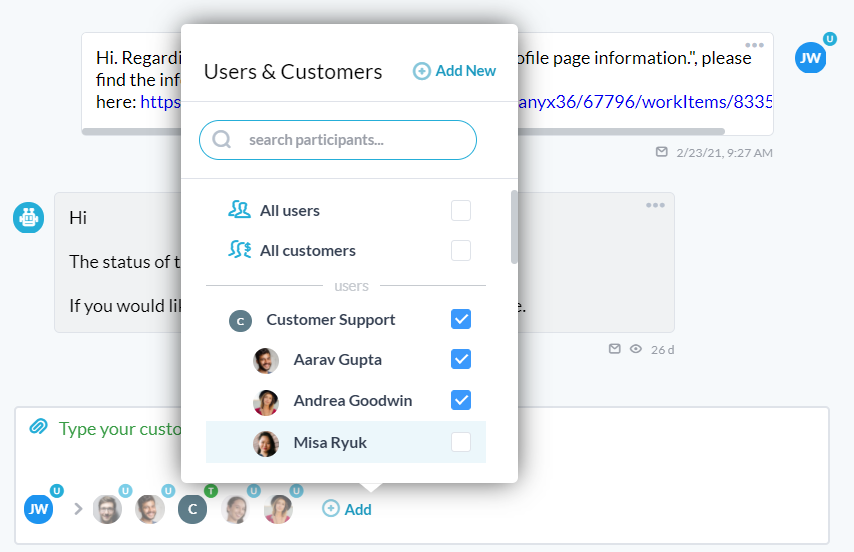 ---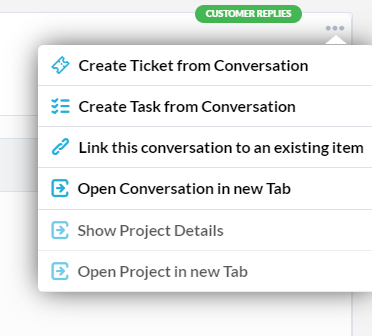 Connect Your Conversations to Your Work
Ensure your conversations are connected to the work they reference by linking a chat with your team, team members, or with customers directly to an item. In the OneDesk messenger application, you can link the communications to an existing work item or simply create a new work item from the conversation. 
---
Hold Conversations in Relevant Locations
Your conversations should be where you need them, so you have easy access to the most relevant messages. That's why, in OneDesk, your conversations can be attached directly to the work item that is most relevant to them. 

Not only can you hold customer-facing communications alongside your items, but you can also have internal conversations with your team or team members all in one centralized location, keeping all your correspondence connected to your work.
---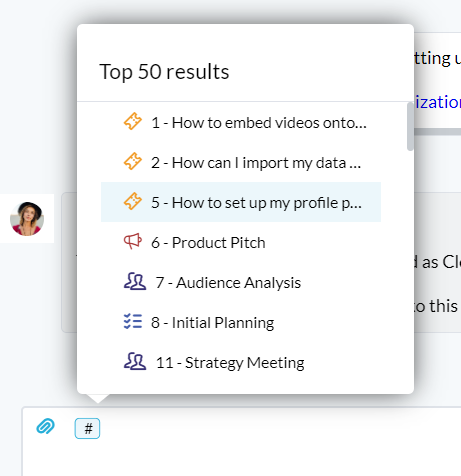 Easily Discuss and Share the Information You Need
Direct your customers to the information most relevant to their query by using the integrated shortcodes in OneDesk. Shortcodes, such as #, allow you to directly reference and link to relevant items in OneDesk that your customer might be asking about. This lets you respond quickly and effectively to a customer's request without having to search the database for the item the customer is referring to. 
---
Never Lose Connection With a Customer or Team Member
Ensure you are always able to reach your customer and team members and that your conversations are never disconnected. OneDesk lets you maintain communication with your customers and team members. During conversations, if a message is sent and the customer or team member doesn't see it within one minute, it is sent to them as an email to ensure they always receive your correspondence. OneDesk also lets you create a customer record directly from the messenger application so you can focus on converting prospects.

---
Keep Track of Your Communications
OneDesk's messenger application lets you know who has seen your messages, if it a user or customer, and who has been sent an email. Simple icons signify this information so you can easily understand what has happened to your message. The icons can tell you:
Which users have seen your messages

Which customers have seen your messages

Which customers or users have been sent an email because they did not see the message within one-minute

If no emails were sent because everyone has seen the message

ONEDESK - FREE 14 DAY TRIAL
Sign up and try out OneDesk for yourself. No credit card required.