Idea Management and Innovation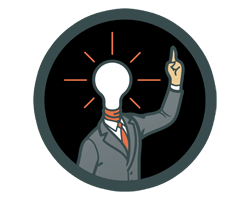 Your new products are only as good as the pipeline of ideas that feed into them. Managing and encouraging this idea-flow is known as the Front-End of Innovation (FEI) and it is a critical factor in continuously releasing innovative products. Getting market input on a product or service does not have to be a cumbersome process. OneDesk addresses idea management and innovation by allowing your customers, employees and partners to participate in the ideation process. This allows you to take immediate action by linking their ideas to requirements and project management applications with powerful idea management tools.
OneDesk's innovation & idea management application enables you to:
Gather customer and employee ideas and suggestions through the customer portal and user dashboard.
Evaluate ideas and enable customers, employees, and partners to vote on them
Develop requirements based on ideas that support your business goals and corporate strategies
Create and publish polls to the customer community and get quick answers to product-related questions
The benefits of effective innovation & idea management include:
Accelerated product time-to-market by discovering what your customers are looking for early, and by using an integrated suite of tools, to go quickly from concept to implementation.
Shortening the path from idea to launch; go directly from idea-gathering to product definition with no duplicate data entry.
Unified execution with all stakeholders on the same page. Ensure no duplication of effort occurs.
Community collaboration: input is obtained from domain experts, regardless of whether they are an employee, business partner, consultant, or customer.
Targeting new markets by extending the idea generation machine beyond the traditional group of thinkers. As new ideas roll in, idea management may help you discover that your intellectual property can be re-purposed in new and profitable ways.
Allows you to keep in touch with your target audience and stay on top of new technologies or shifts in the market by leveraging the knowledge and experience of your customers, partners and employees
Takes the guesswork out of building a product requirements document or roadmap, by building your business case on real-world measurable metrics.
Idea management made simple, with OneDesk!