OneDesk's Helpdesk Software
OneDesk's help desk software allows you to easily support your customers & end-users. Capture, respond-to, and manage customer support tickets, emails, service-requests, projects, and other customer interactions.
Help Desk & Ticketing Software
Full-featured ticketing system helps you provide stellar customer service and support.
Email integration
Capture tickets and discussions by email. Automatically capture and thread responses. Get notified of new comments or updates.
Customer web portal
Easily deploy a client portal to engage with your customers on your website. Let them report, track and discuss their issues.
Knowledgebase
Add a knowledge base or self-service portal to improve the customer experience by allowing your customers to help themselves.
Live Chat
Chat with your customers on your website, and capture tickets with a click. Follow up by email if they go offline.
Automate everything
Auto-responses. Automatic grooming, routing, assignment, and property updates. Custom notifications, fields types and more.
Helpdesk Software
Provide superior customer support. OneDesk's powerful helpdesk software lets you capture, assign, and respond to support tickets from one centralized place. Discuss and quickly resolve tickets with your team. Simultaneously hold private internal conversations and separate client-facing discussions on the same ticket.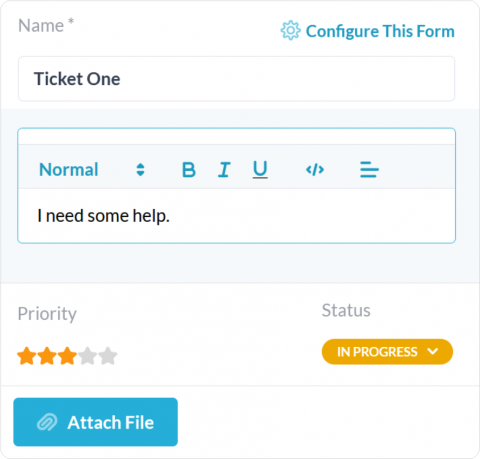 Email Capturing and Responding
Capture and respond to customer emails directly from your OneDesk account. Set up takes only a couple of minutes – just forward your incoming support emails to: tickets@(YourOrganization).OneDesk.com
OneDesk will create a new ticket from the email, capture attachments, and create a new customer record if necessary. When you reply to the ticket inside OneDesk, the customer will get your response by email. You can even customize it so that the email appears to come directly from you.
With OneDesk's customer email management features, you simplify and automate your email ticketing flow, allowing your team to focus on what matters: solving customer issues and answering questions. Learn more about how OneDesk makes managing email easier.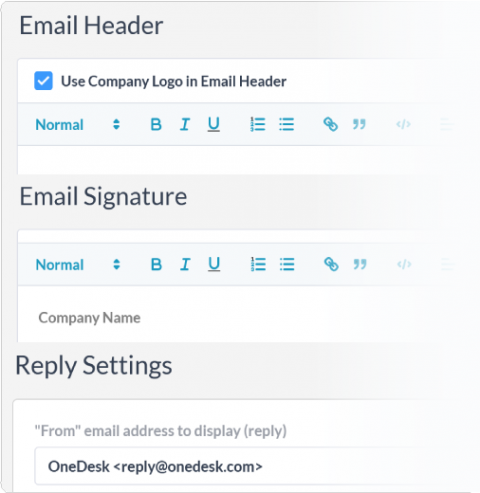 Customer Support Portal
OneDesk includes a web-portal designed especially for your customers. Put this portal on your website to give your customers a place to submit and track tickets or discuss tickets with you. Let customers find the answers to common questions by publishing previously resolved issues and conversations.
You can easily change the appearance, features, behavior, and customer-permissions for your portal by changing a few options in the administration panel.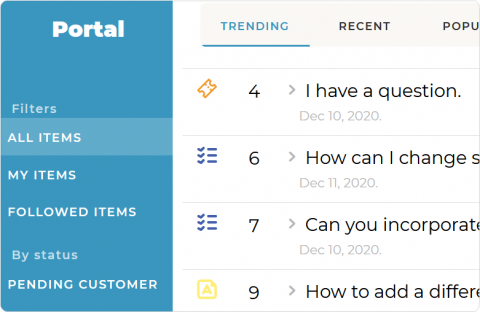 Automate Your Workflow
OneDesk allows you to automate your workflow and common repetitive tasks by allowing you to:
Auto-respond to new tickets
Auto-classify new tickets based on sender, keywords, priority, etc.
Automatically assign and notify agents of new tickets
Notify customers when the ticket status changes
Update the ticket status based on who responded last
And more!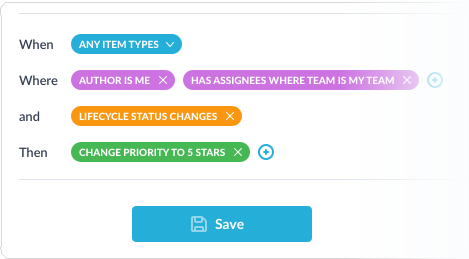 Flexible Customer Interaction Management
Not all customer interactions can be resolved with a back-and-forth response workflow. Sometimes the customer has discovered a new issue, has a good idea, or is requesting a new project, service, or feature.
OneDesk allows you to create different workflows for the different types of requests you receive. Push some tickets into the "issue" workflow, the "service-request" workflow, or the "feedback" workflow. OneDesk is flexible that way.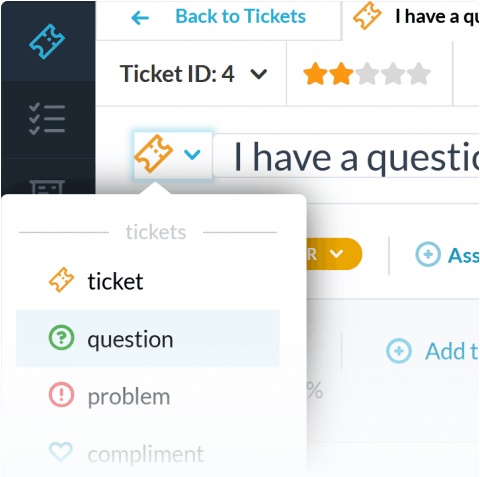 Tightly Integrated Live Chat
OneDesk includes a built-in live chat app that is tightly integrated with the ticketing flow. You can put the messenger app on your website or intranet to allow your customers to chat with you in real-time. When new chats arrive, you get notified and can respond live.
Create new tickets from chats with one click.
Customers can log in to view and respond to their previous conversations.
Unseen responses go out by email, and emailed replies are added to the conversation. Nothing is missed.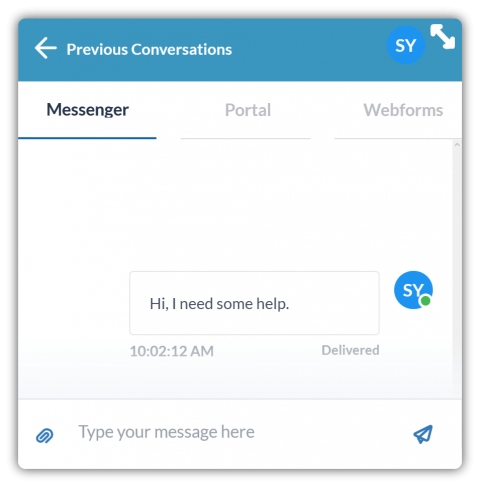 Full-Featured Project Management
One of the big differentiators of OneDesk is that it combines HelpDesk with Project Management. You can involve your customers with your projects to the extent you need and permit. You're able to:
Let customers submit new tasks or service requests by email.
Expose project tasks or requirements on the customer portal for customer review.
Provide a central place for customers to track and discuss ongoing projects.
Track the work for customer tickets and tasks in one place.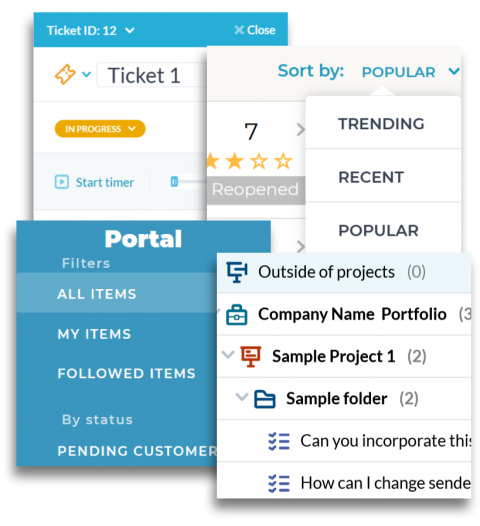 Powerful Filtering, Grouping, and Views
Filter, sort, and group your tickets the way you want and save that as a new view. You can also export it with a click.
See tickets grouped by status, assignee, or customer.

Create filters for high-priority unresolved tickets.

Share views with your team or keep them private.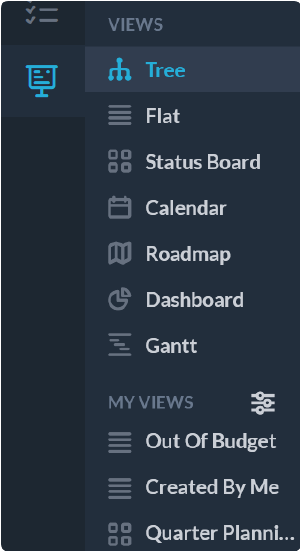 Improve Customer Experience with Satisfaction Surveys
Customer satisfaction surveys allow you to assess the quality of your customer support, and to gain valuable feedback from customers about the performance of your helpdesk team. Aggregate survey response data to make important decisions about your helpdesk that will help you improve your level of support.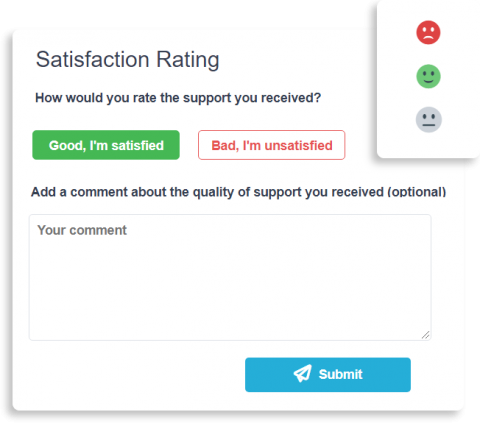 Save Time with Saved Replies
Minimize the time your helpdesk team spends answering commonly-asked questions by using saved or "canned" replies. These saved replies can include dynamic fields to automatically populate ticket properties such as customer name or ticket ID. Canned responses allow your team to save valuable time and consistently deliver complete and approved responses.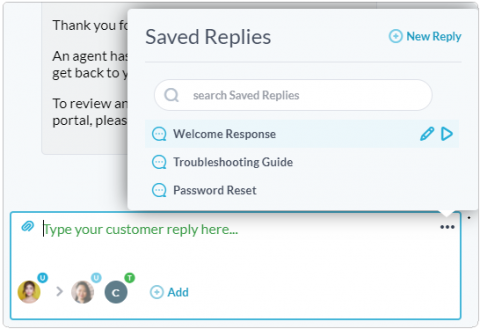 Dashboard and Reports
A quick glance at the dashboard gives you real-time statistics about the status of your tickets, team performance, and more. Export detailed reports about your feedback and support tickets in PDF or Excel formats.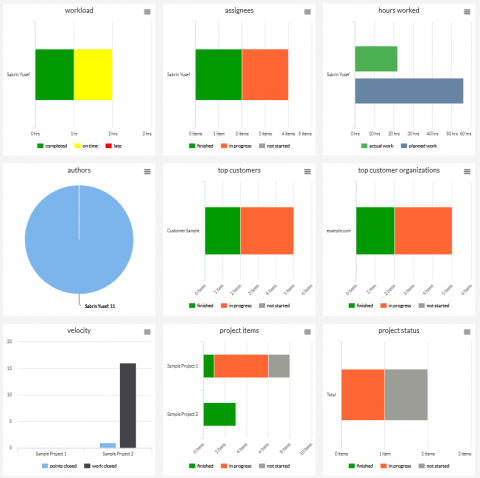 Download our OneDesk Mobile App
Available for iOS and Android, the OneDesk mobile app lets your team use their OneDesk account while on the go. Let your agents access and work on their assigned tickets directly from their phone, whether they are at their desk or off-site. Your agents can:
Access their assignments.
Reply to and resolve tickets.
Submit timesheets to log work performed.
Follow and engage in discussions on items with customers and colleagues.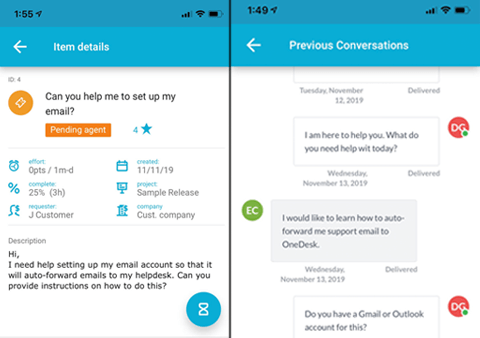 Sign up and try it out.
Sign up and try out OneDesk for yourself. No credit card required.