Customer Email Management Solution
Customer Email Management Solution
OneDesk's customer email management system has all the features you need. It gives you full control over what your email ticketing system does. Here are the main email features in OneDesk's helpdesk application: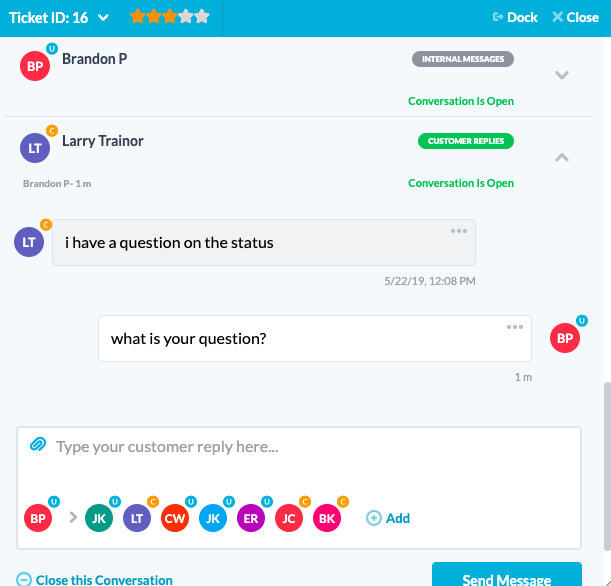 Customer Ticketing System
OneDesk has a powerful customer ticket management system, which allows you to fully manage the email and ticket workflow. Each ticket has a default set of workflow statuses, but you can modify them to meet your company's processes.
By default, a new ticket starts in the "Open" status and is not assigned to an agent. The ticket, therefore, appears in the "unassigned tickets" view. A reply is automatically sent to the customer. At this point, someone can manually assign the ticket to an agent in your support team.
Once the assigned agent replies publicly to the ticket, the response is sent to the requester by email, the status is changed to "pending customer" and the ticket appears in the "pending customer" view.
Once the customer replies to the ticket, the assignee is notified of the response, the status is changed to "pending agent", and the ticket appears in the "pending agent" view.
You can automate and modify this workflow so that it matches the way your company communicates with your customers.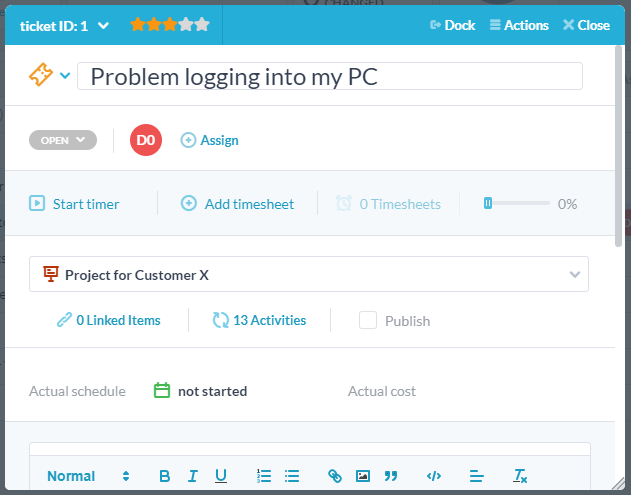 Email to Ticket
OneDesk will create tickets from customer emails. This is one of the key features of customer email systems and it works like this:
You let OneDesk know which email address you use to receive support inquiries.
You set up an auto-forward to redirect new emails to one of your dedicated OneDesk email addresses.
OneDesk creates a ticket out of the email, setting the subject, content, attachments, and requestors on the ticket
Any future replies made on the ticket or subsequent reply-emails will be added as messages on the ticket.
If necessary, a new customer record will be added to the customer list inside OneDesk.
We have easy-to-follow guides for setting up redirects for Gmail, Outlook, and other email systems.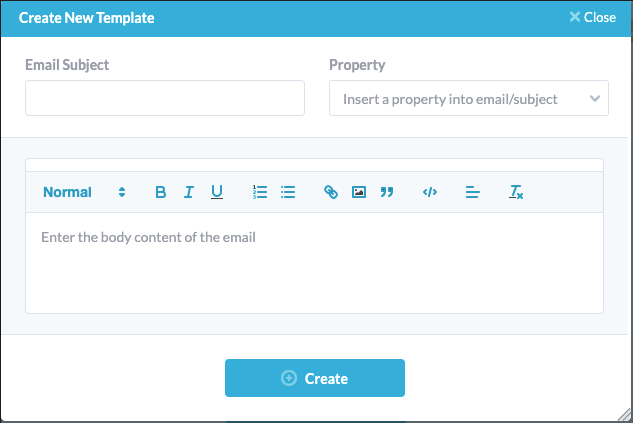 Helpdesk Email Templates
When you send your customers emails, you want full control over what they see. OneDesk's helpdesk email templates let you modify the content of the emails that you send to your customers. Not only that, but you can modify the templates of virtually any email we send on your behalf.
As the administrator of your OneDesk account, you have access to an email Messaging Center where you can turn on or off the various emails or modify the content. You can even create new email templates and define the circumstances under which they are sent.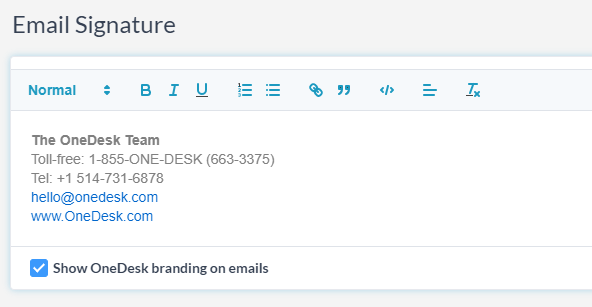 Helpdesk Email Signature
When you send out emails to customers, you will want the helpdesk email signature to look like it is coming from you. In OneDesk you can add a custom signature to the end of each email. this signature normally provides contact information for your company, but you can include whatever you want, including graphics and logos. You can even turn the branding off.
If you would like to customize the styling of the emails, you can modify that too. You can change the colors, add a logo, and more. Finally, you can also add a custom header to your emails.
When OneDesk sends an email on your behalf, it will be wrapped in the header and footer you define, and styled with the colors you choose.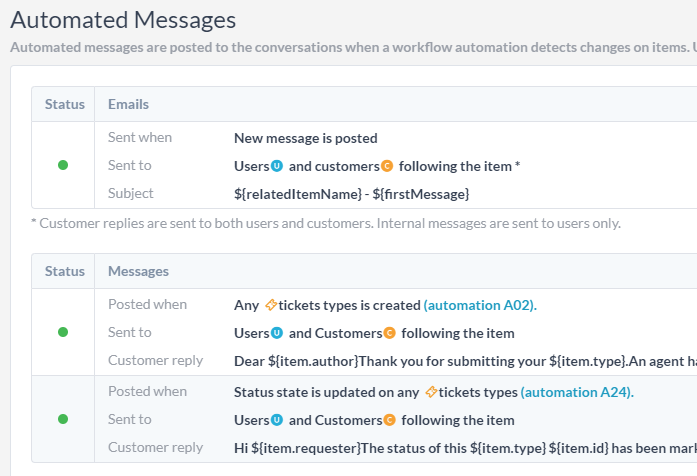 Help Desk Email Response
Your help desk reply email usually consists of two kinds of responses: automated replies and replies from your support agents.
Automated responses can be set up with one or more templates, which reply to customer tickets under circumstances specified by you. These are fully customizable replies, and you can have as many as you need. Each one can be triggered under different circumstances, so you could have a different response for a new project request than for an IT ticket.
Replies from agents contain the message the agent entered and are wrapped in your template (see above). The other content of the email, such as the ticket it is associated with, the subject line, and more, can be configured by you as well.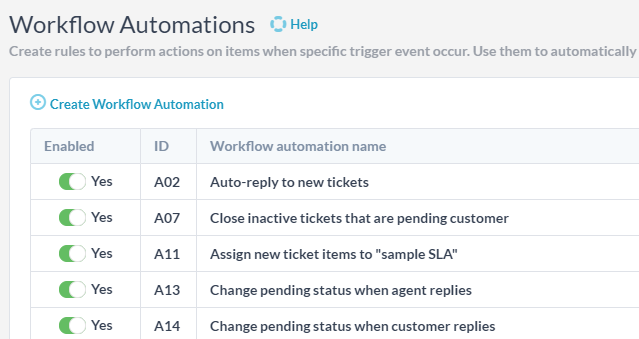 Helpdesk Automation Tools
OneDesk's helpdesk automation tools are very flexible. OneDesk comes equipped with our powerful Workflow Automation Engine.
This automation tool can automate all aspects of your helpdesk, including automatic replies, auto-assignments, ticket queue grooming and triage, status changes, status updates, reminders, notifications, service-level agreements, and a lot more. A large list of triggers, actions, and filters lets you route your tickets in nearly any way you need. This enterprise-level functionality is included in all plans and is one of our most popular features.

Customer Email Tracking
When OneDesk sends an email on your behalf, it doesn't stop there. You may need to track your customer emails after they are sent or received. OneDesk provides customer email tracking with every plan.
To track which emails you sent and verify if they were delivered correctly, you don't need to just send and hope. As administrator, you can just open the outgoing email audit panel to see a list of all the emails we send on your behalf. For each email, you can see the delivery status and, for those rare cases where the delivery failed, we will tell you why. Perhaps the email address was incorrect, or the email bounced from the destination server. It doesn't need to be a mystery as to what happened.
You can also track incoming emails in the Incoming email audit panel. Here you will see all the emails OneDesk received for you and what we did with them. We will tell you if we created a new ticket or if we added a comment to an existing ticket. If a customer claims to have sent an email, you can easily verify if this is really the case and if so, what happened to it.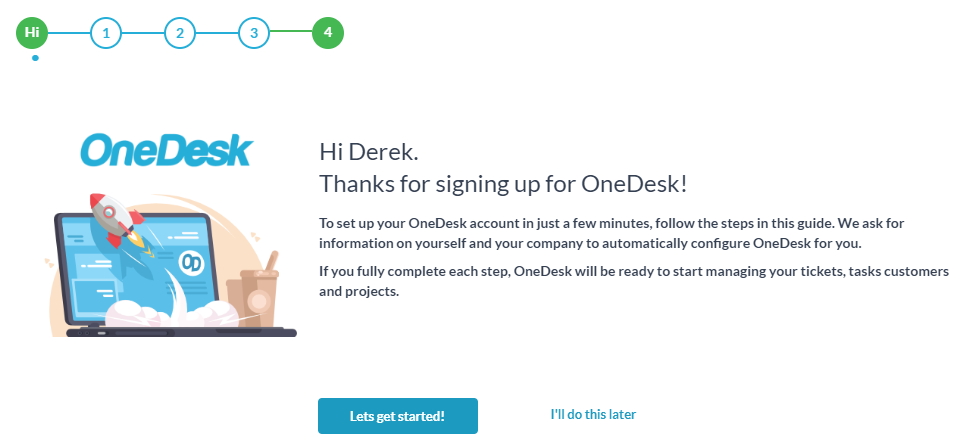 Setting Up Your Email Service Desk is Easy
Getting your service desk set up doesn't have to be a chore. OneDesk comes with a wizard that walks you through all the steps. In fact, you could be ready to start capturing new tickets, capturing new customer records, and chatting live with your customers in just a few minutes after signing up. If you run into any difficulties, our team is always ready to help out with your customer email management.
ONEDESK - FREE 14 DAY TRIAL
Sign up and try out OneDesk for yourself. No credit card required.