Internal Helpdesk Software Solution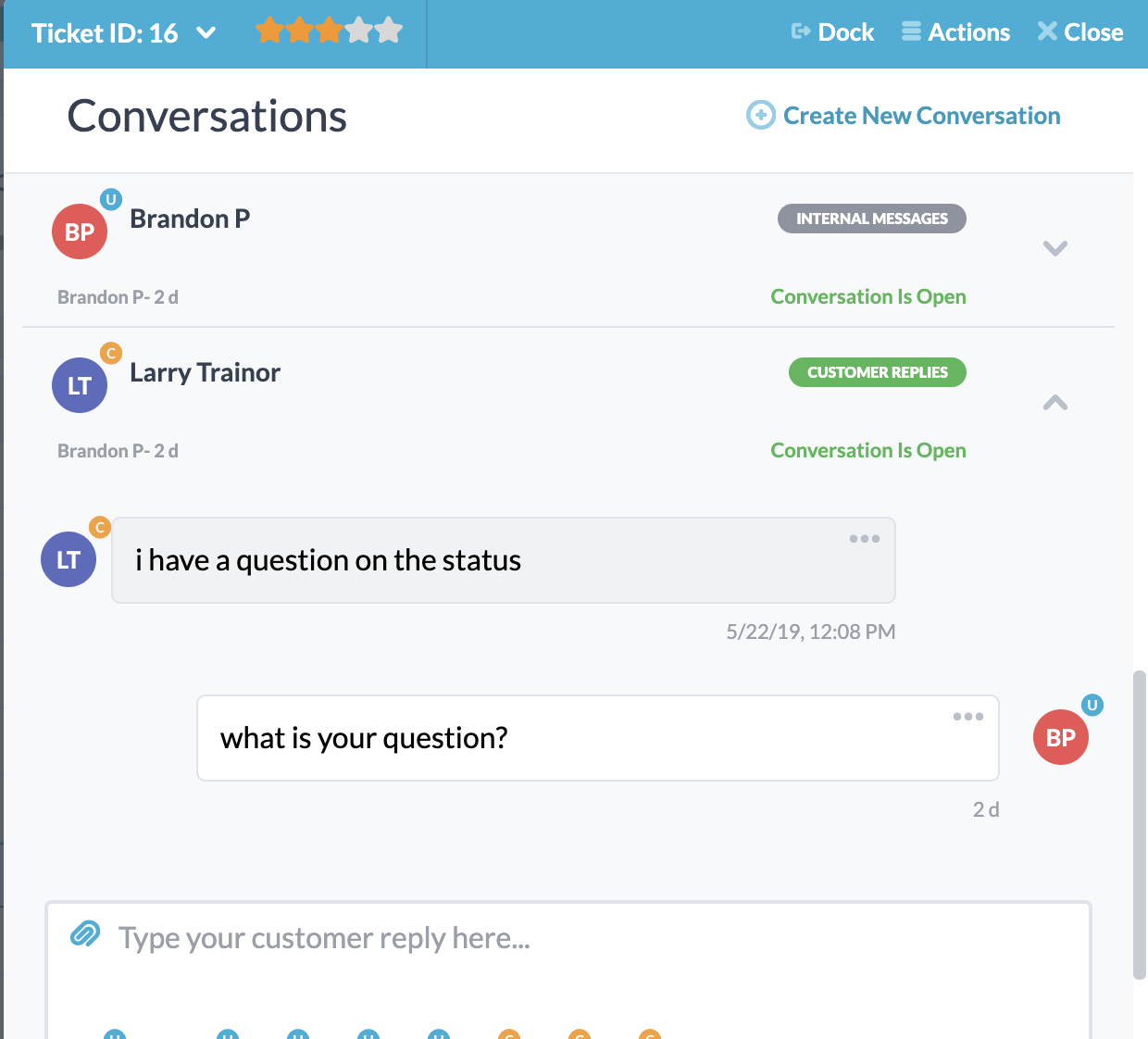 Internal Helpdesk Software Solution
Manage, track and resolve issues from one centralized internal helpdesk software. OneDesk's built-in helpdesk software enables you to discuss and resolve tickets through team collaboration. Discuss with your teams through internal messaging or respond to your customers via the customer messaging application.
OneDesk can attach conversations to tickets or tasks. You can also incorporate notes and details related to the ticket using the ticket creation form. As an administrator, you can assign individual users to a ticket or task. You can also assign work to a team or department within your organization.
With OneDesk, you can add Service Level Agreements (SLAs) to your tickets to ensure rapid response times that meet your specified policies. Measure and monitor your support agents based on the SLAs; offer training to your agents based on their performance.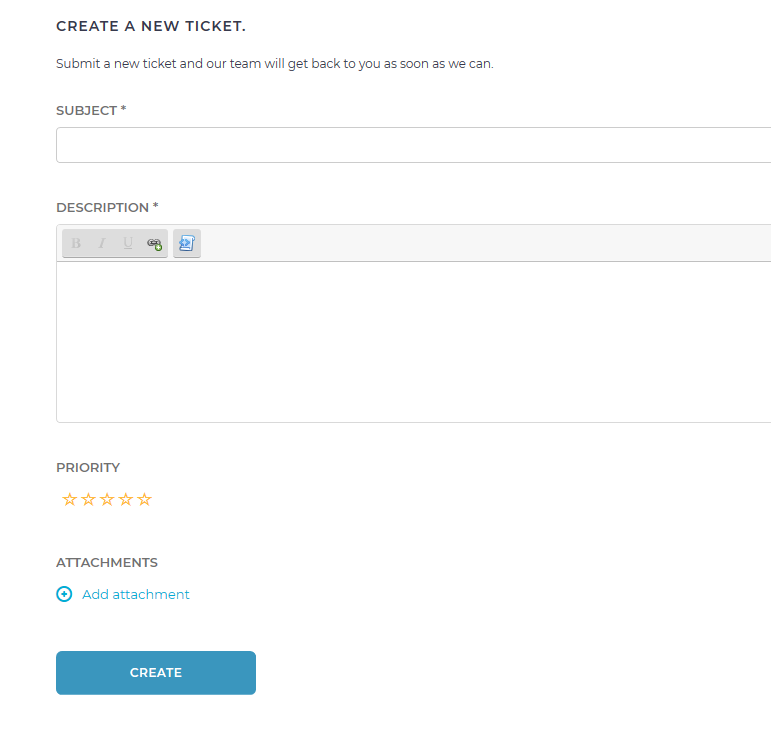 Internal Helpdesk Ticketing System
Employees can create tickets in multiple ways. OneDesk enables employees to submit tickets into the internal ticketing system by using the embedded web forms.
Tickets can also be created via email. Simply auto-forward your support email to your OneDesk creation email so that all requests can be automatically converted to tickets in OneDesk.
If customer requests currently reside excel spreadsheets, OneDesk can automatically import those requests as tickets. Simply import the excel sheet to OneDesk and all the data will be synced with OneDesk's internal ticketing system.
OneDesk can be integrated with multiple applications. You can import all your customer requests and records from 3rd party applications and OneDesk will import customer data and support tickets. As a user, you can also add tickets manually.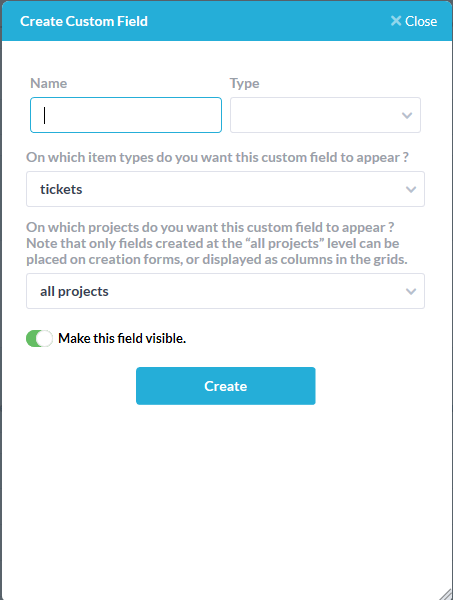 Internal Support Ticket System
Create, store and automate emails to respond to frequently asked questions. OneDesk's internal support ticket system provides a quick response with automated replies. You can modify OneDesk's workflow automation and customize all responses.
For issues that require human intervention, you can direct the customer to the knowledgebase application. Within the knowledgebase, you can create a variety of articles describing steps to problem resolution.
Depending on your needs, you can create and modify up to 10 types of tickets in OneDesk. These tickets each have their individual email addresses. All ticket types can be customized for workflow status, color, automation rules, and more.
Provide more information by adding custom fields to your tickets. Custom fields can be of multiple types: text, number, date, cost, and choice. You can name the field, add it to different ticket types, or projects based on your requirements.
The ticket detail panel consists of properties that you can present in your ticket creation form. Properties such as status, assignee, priority, timesheets, schedule, and more can be chosen based on what you would like to expose to your customers.

Internal IT Helpdesk Software
IT teams can serve external customers or internal customers. Eliminate technical difficulties during work hours. OneDesk's internal IT helpdesk software provides greater visibility and control over IT-related issues. Reduce business interruption by tracking and managing all tickets and tasks.
Assign appropriate teams to resolve multi-tiered technical problems to provide quality service to internal end-users.
With OneDesk, the IT team can use standard views or create custom views of the tickets. Users can also view projects by project level. This provides the advantage of seeing projects individually or viewing all projects together.
Views
OneDesk offers six standard views: Tree, Flat, Gantt, Status Board, Calendar and Dashboard.
Tree arranges everything in a hierarchy. In Tree view, you have your organization, portfolio and projects, which can be the containers for tasks and tickets.
Flat shows all tickets without hierarchy.
Gantt chart shows a comparison of your planned and actual timelines. Blue bars denote the planned schedules, whereas green indicates the actual time it took to complete the task.
Status board arranges all the tickets and task by their lifecycle statuses. Users can drag and drop the item according to their completion status.
Calendar view shows all the schedules of tasks or tickets to show the user the start and end dates.
Dashboard organizes all the tickets in the form of graphs and pie charts.
My Views
My Views allow you to customize views according to your requirements. To create your personalized views, you need to first select a layout. You can then also add filters or advanced Filters if deemed necessary to help narrow down your ticket views.
By default, OneDesk contains some custom views. These commonly used views are often useful for you and your team members, but you have the option to modify or delete these views.
Closed Tasks show you tasks that are resolved and closed.
I Am Following indicates the tickets that you are following.
By Requester groups tickets by the requestor.
Recently Updated shows the tickets or tasks that have some recent activity or updates.
By Priority organizes the tickets based on the urgency of the ticket types.
Assignee Board shows you all the users that are assigned to a task or ticket.
Task Inbox arranges all the tasks based on their creation date.
My Todo provides you with all the tasks or tickets that are specifically assigned to an individual user.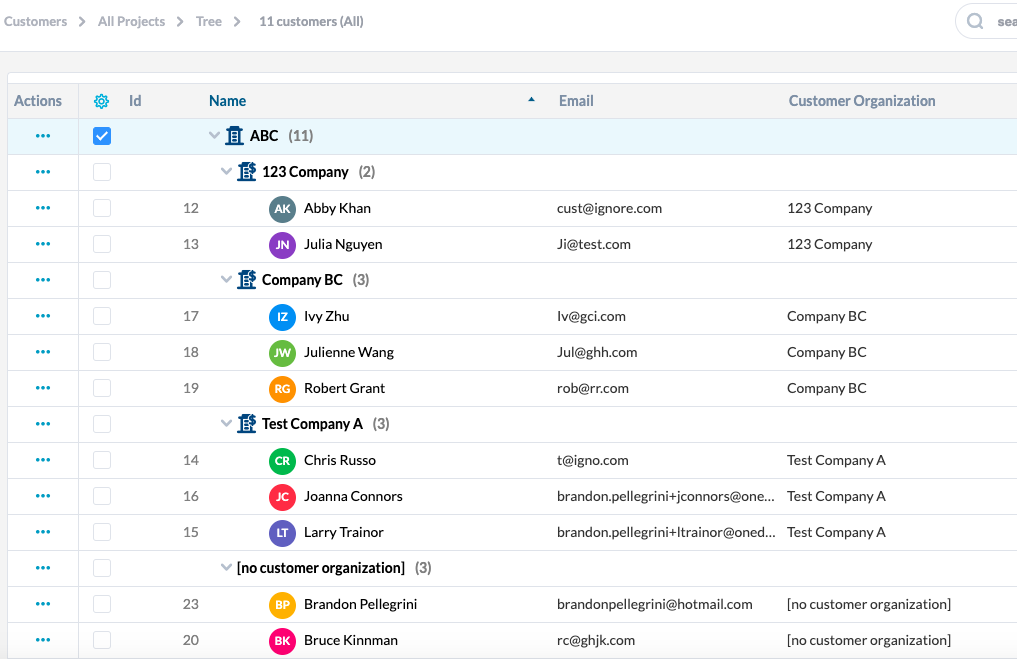 Internal Customer Service Software
The OneDesk 'Customers' application shows all customer records. Any time a customer sends an email request, all customer information is automatically synced with OneDesk providing details such as customer name, email, registration status and more.
The Customer application is also organized in a hierarchy, allowing users to arrange customers in customer organizations. Each business customer can be grouped into a customer organization, providing the user with useful information when attending to a customer.
The OneDesk customer service software also allows you to create SLAs for your teams, so your team can meet and excel customer service standards. SLAs automatically notify users before they're in the breach so that they can take action before they reach service level agreements.
ONEDESK - FREE 14 DAY TRIAL
Sign up and try out OneDesk for yourself. No credit card required.