IT Ticketing Software
IT ticketing software enables customers or employees to submit email requests to the support team. These requests are then converted to tickets, enabling  agents to take measures to resolve the ticket. Here are some benefits of incorporating an IT Help Desk System or a ticketing software in your organization.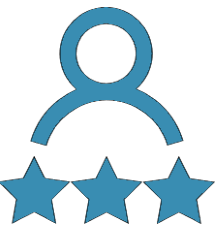 Improved Customer Satisfaction
IT support software serves as a platform for customers to seek immediate assistance for technical difficulties. Customers can receive immediate solutions to their problems through IT helpdesk ticketing systems.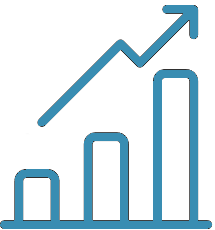 Increased Productivity
Most help desks include a self-help application for customers. The goal is to offer answers to commonly asked questions without any manual intervention from support agents. As a result, repetitive tasks are eliminated to allow agents to work on more critical tasks at hand.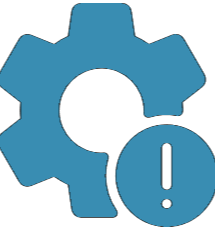 Immediate Intervention
When a customer faces technical difficulties, they can immediately reach out to the support agents through the IT help desk ticket system. This allows agents to engage with customers in real-time and, in turn, resolve issues right away.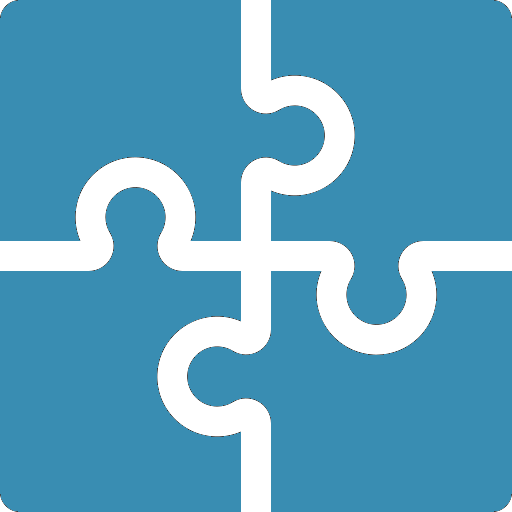 Faster Resolution Process
Not all customers are highly proficient in solving technical problems. Instead of wasting time and looking for solutions, customers can contact the IT team for a faster resolution process. Support agents can then work with their teams and quickly address the problem.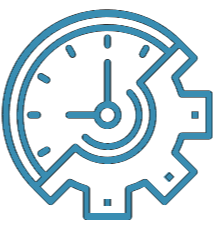 Highly Efficient
Instead of waiting in long call wait times, customers can contact the IT team through a help desk ticketing software. This helps both the customers and internal support team to save time and enables the agents to work towards resolving the customer requests.
OneDesk IT Support Desk Software
OneDesk provides a comprehensive IT help desk solution. As a highly intuitive It ticketing system software, OneDesk can be operated by anyone with little or no training. With a series of inbuilt integrations, OneDesk is a powerful tool that allows you to accomplish your tasks within one platform.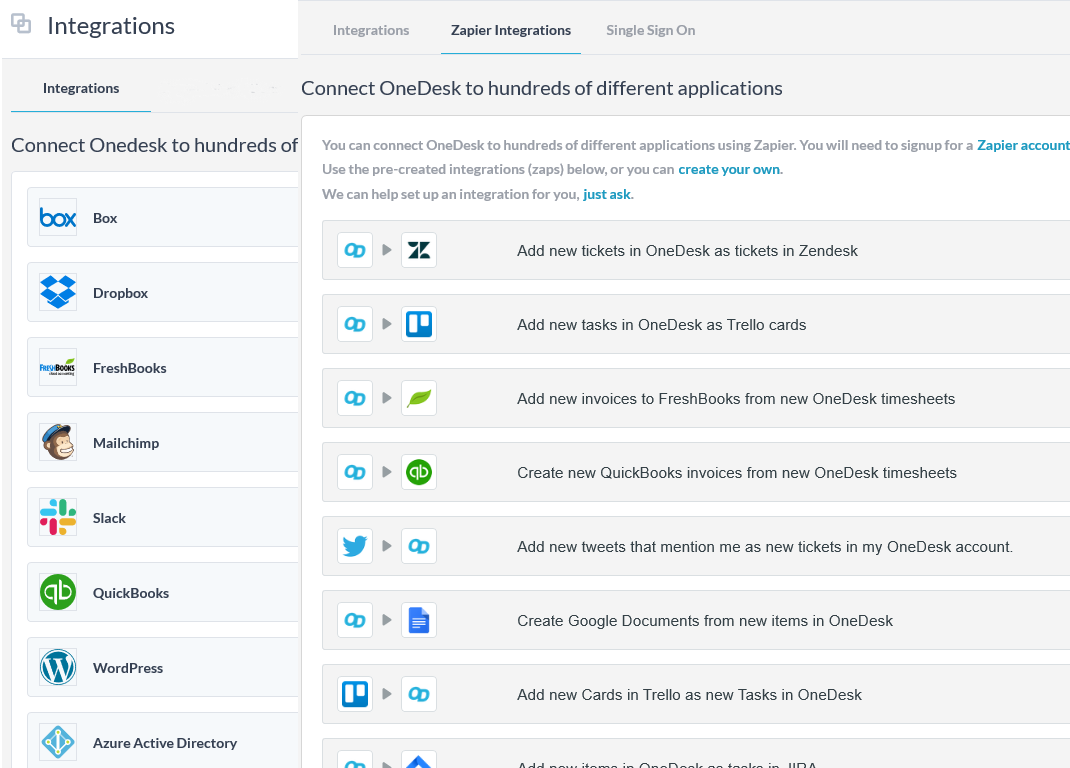 Integrative Application
OneDesk syncs all your email requests and converts them to tickets in the application. Auto-forward your support email to OneDesk creation email and eliminate manually keying in ticket details and customer records. You can integrate with inbuilt applications or applications supported by Zapier. Application integration auto creates tickets at OneDesk.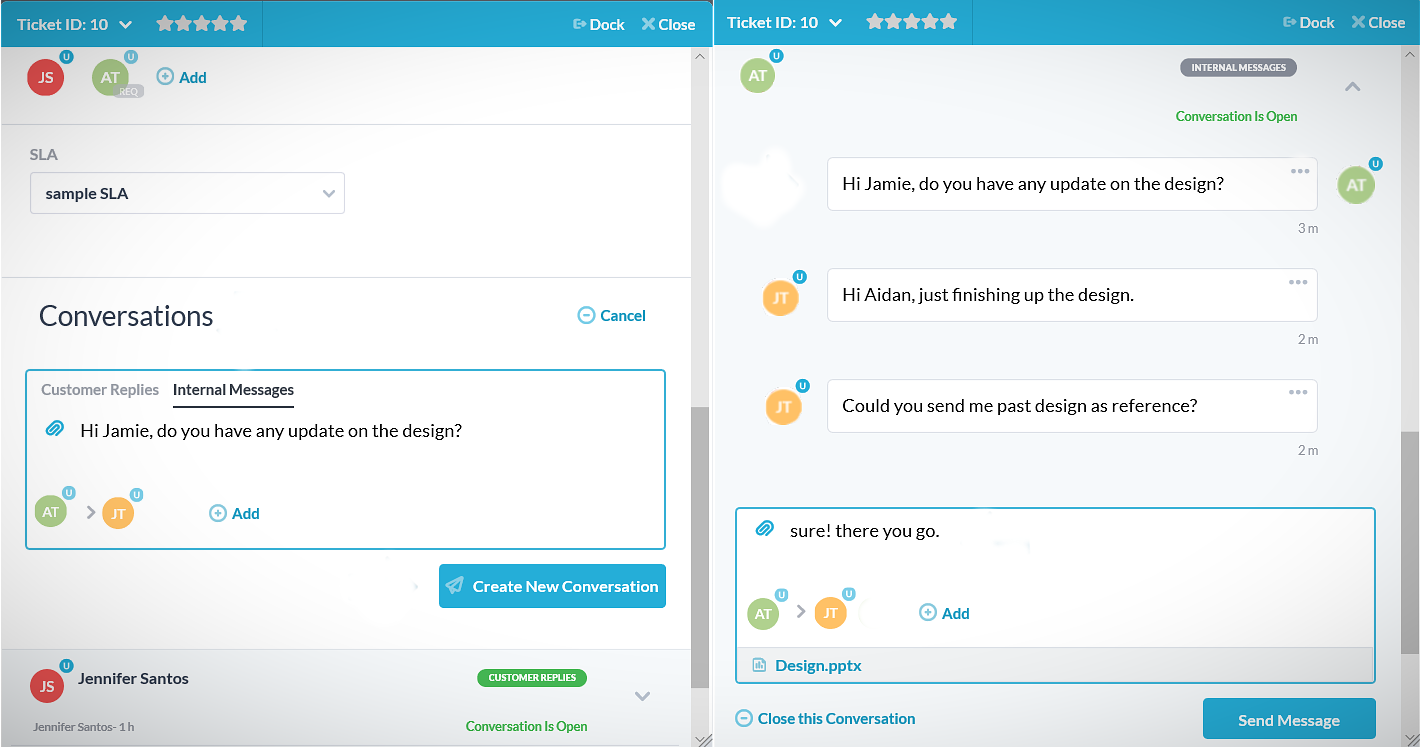 Fosters Communication
OneDesk helpdesk software is built for communication. Users can interact with customers through live chats and emails. Internal teams can also discuss their tasks and collaborate through creating internal notes.
OneDesk Live chat application allows you to solve customer requests instantaneously. You can also attach essential documents for your customers right away.
Engage and collaborate with your team members through the OneDesk Internal Inbox. Reach more members of your team by adding more users to your conversations. Attach and share documents with your team to produce a higher quality of work.
Workflow Automation
Workflow automation is a powerful feature within OneDesk. Automate specific actions that require repetitive manual entry from your support agents. This means you can automate tickets, tasks, features and other items in OneDesk. You can add a set of commands to perform the automation.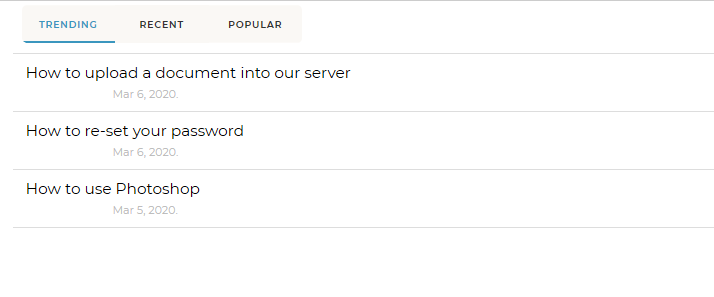 Knowledgebase Application
OneDesk offers an inbuilt Knowledgebase application for users and customers. Knowledgebase allows customers to find answers to commonly asked questions. Support agents can easily lead customers to the knowledgebase articles by pasting the links to the live chats.
Upload self-help articles that direct customers with step-by-step guidance to resolve common technical errors.
Provide visuals by including videos to allow your customers to gain a better understanding of the processes.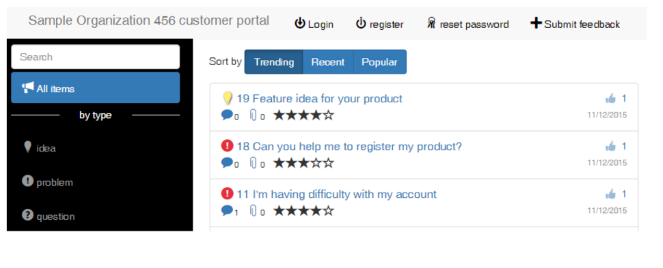 Customer Web Portal
The OneDesk customer web portal allows customers to send, track and communicate their requests. You can decide what properties to add to the webform as a way to provide more transparency to customers.
Send: Customers can direct their requests through webforms in the web portal.
Track: Based on the properties added to the webform, customers can monitor the progress of their tickets.
Discuss: In case customers want more information about the progress of their ticket, they can discuss it with the support agents via email or live chat.
Creating Tickets in OneDesk
Tickets are customer requests that require immediate action. Tickets can be created in multiple ways within OneDesk's IT support software.
Conversations: Tickets can be captured from customer conversation from OneDesk live chats.
Webforms: Customers can create tickets by submitting their requests through the webforms in the web portal.
Integrations: Tickets can be automatically created when you integrate OneDesk with other applications.
Support Email: Auto-forwarding your support email to your OneDesk email automatically converts email requests to tickets.
Manual Entry: Internal users can manually key in information to create tickets.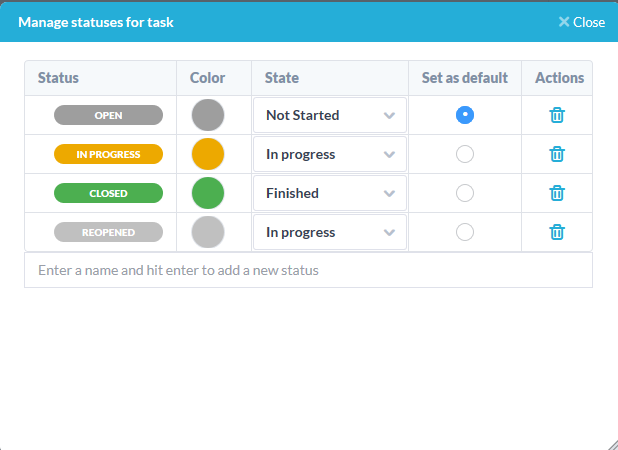 Lifecycle Status of Tickets
Open: This is the default status of the ticket when first created.
In Progress: The ticket status changes to "In Progress," when work is done on the ticket. For instance, a user could add timesheets manually or through the timer, and this would change the status immediately.
Pending Customer: Once you reply to a customer by creating a conversation within the ticket, the ticket status changes from open to the pending customer.
Pending Agent: The Pending Agent ticket status occurs when the customer responds to the support agent.
Closed: Closed ticket status signifies that the ticket is resolved by the support agent and requires no further action.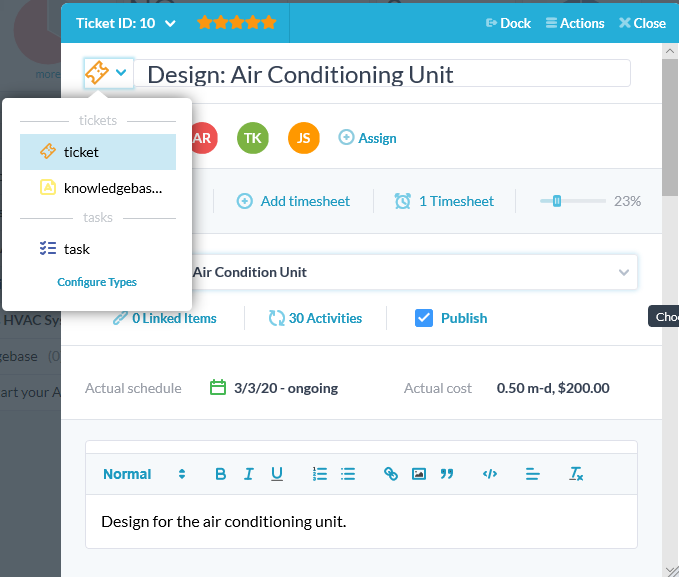 Converting Tickets to Tasks
With the OneDesk IT help desk ticket software, you can convert tickets to tasks. Tasks are created when support agents need to perform additional work to resolve customer requests.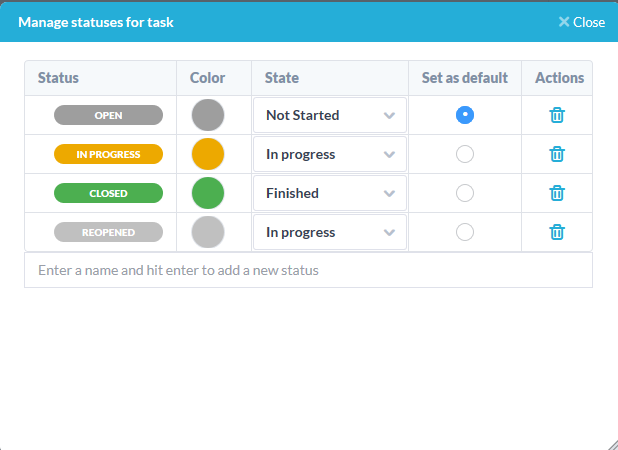 Lifecycle Status of Tasks
Open: This is the default status of tasks when created.
In Progress: Anytime users add timesheets to the task, the ticket status changes to in progress.
Reopened: When a closed task requires further work by the user, the user can simply reopen the ticket, enabling the change of status.
Closed: Tasks are closed when users complete the task at hand
IT Support Management Software
OneDesk is a versatile application that also serves as one of the many IT service support management tools for your team. As a highly configurable software, you can make many customizations in OneDesk. These customizations allow your team to improve their performance and ultimately better manage their service requests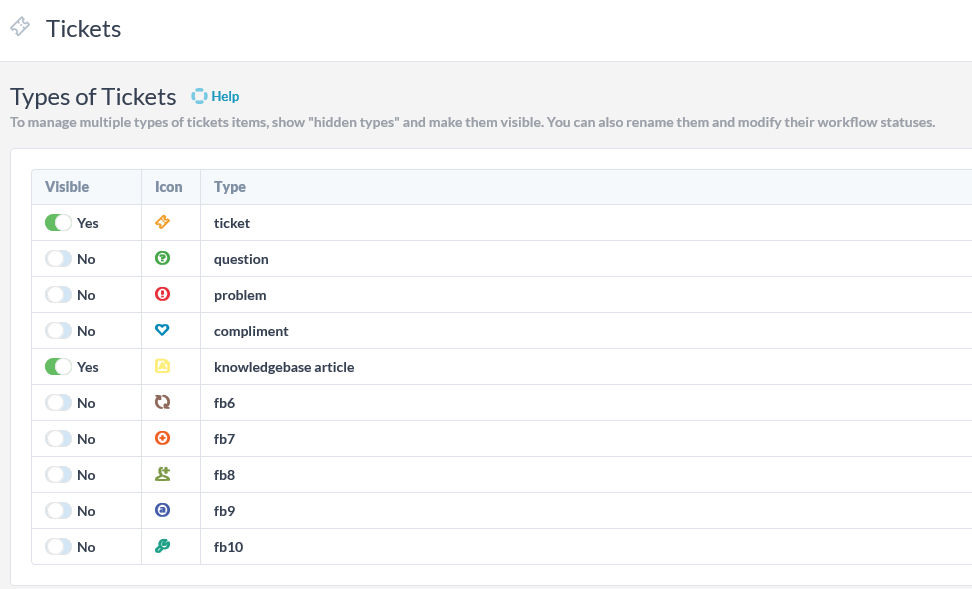 Create more Ticket Types
You can create up to 10 ticket types through OneDesk administration settings.
Enable or disable any ticket types according to your needs.
Choose suitable ticket icons based on your ticket type.
Name or rename the ticket types or change the visibility of tickets by enabling or disabling the item.
Each ticket type has its dedicated email to in OneDesk. For instance, the associated email for tickets is ticket@(your organization name).onedesk.com.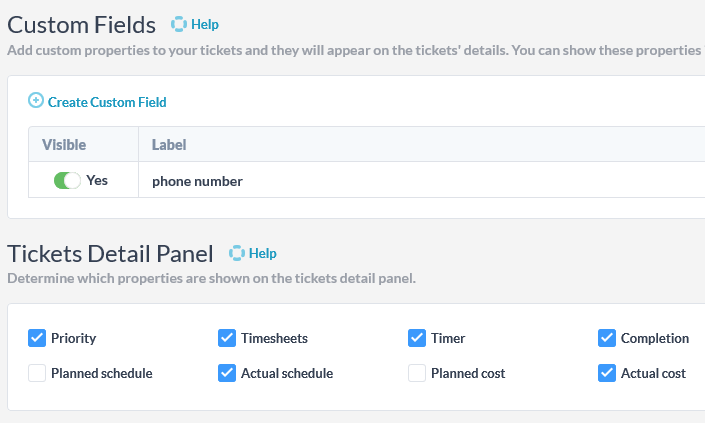 Add Ticket Details
Include more information in your ticket creation form by using custom fields. OneDesk serves as an IT help desk management software, allowing you and your team to create a highly informative ticket form. A detailed ticket form allows your teams to gain perspective on how well they've managed their work. This serves as a guide to improve performance in the future.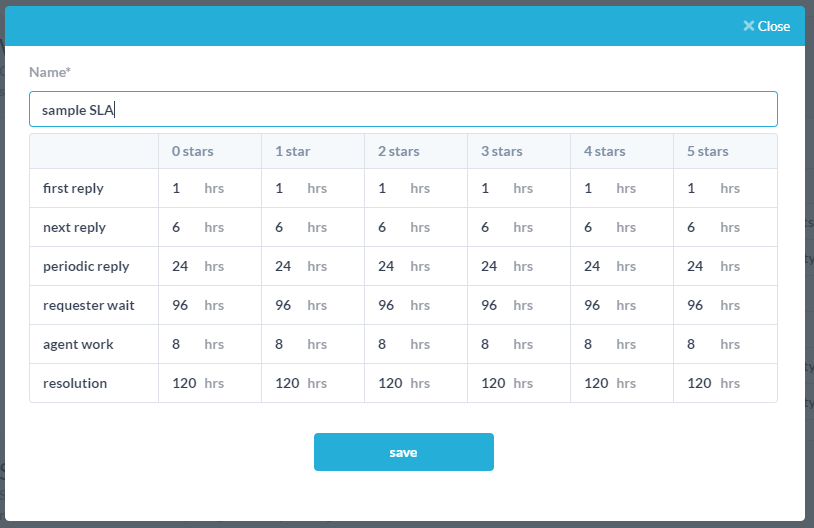 Add SLAs
SLAs are service level agreements with the customer and provider. It defines response and resolution time for items. OneDesk allows you to create SLAs for your business customers. With the OneDesk Workflow Automation feature, you can notify the assignees of any upcoming breaches.
ONEDESK - FREE 14 DAY TRIAL
Sign up and try out OneDesk for yourself. No credit card required.