Trouble Ticket Software
Trouble ticket software is used to track and manage issues reported by customers. Tracking these issues as they are identified, triaged, worked on, and resolved, gives a full picture of what it takes to complete this work and provides a way to look back on how similar issues were resolved in the past. Using software to manage trouble tickets is critical for many teams within your company including, IT, marketing, engineering, customer support and more. By using a system to manage the workflow of inquiries and issues you develop repeatable, improvable, processes that lead to consistent service delivery and ticket resolution.
Trouble Ticketing Software in the Cloud
With software increasingly being web-based, online trouble ticket software becomes possible. By using online trouble ticketing software like OneDesk, tracking tickets are not tied to software installed on a particular device. OneDesk can be used anywhere our users have an internet connection. Beyond our web application that can be used through a web browser on desktops, laptops, and mobile devices, we also offer a mobile application that can be downloaded and installed onto any iOS or Android device. This option gives users the ability to update tickets in one app, log time against tasks assigned to them, and engage in conversations with colleagues and customers about particular tickets.
Helpdesk software is any tool used to track customer support tickets. Used in concert with our customer portal, our Trouble-Tickets application allows our users to organize, log, and track tickets directly from the OneDesk system. Using customizable webforms, trouble tickets can be gathered directly from affected customers and then live-on as a work item in the system.
These tickets follow a workflow before reaching a resolved state. Communication between the support team and the affected customer is facilitated through the use of conversations directly on the tickets. Using software to track helpdesk trouble tickets allows support teams to see open cases in a clear, organized fashion. This leads to more time being spent on resolving issues and less time hunting for tickets that are available to be worked on.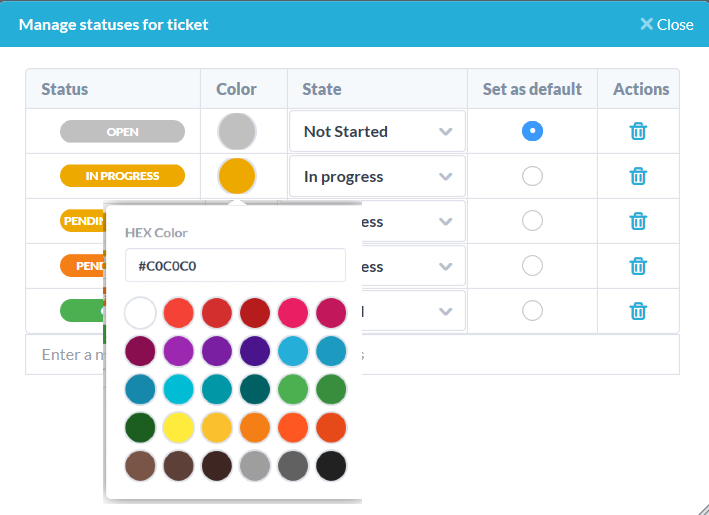 Trouble Ticket Tracking
Being able to see and track the trajectory of a trouble ticket is crucial to pinpointing when to communicate with the affected customer in a timely fashion. In order to track a trouble ticket, a set of statuses needs to first be defined to represent the various stages in a trouble ticket's lifecycle. Through our Tickets application, custom statuses can be defined and separate workflows can even be set up for different ticket types.
Once a workflow is designed, automation can be introduced to take action on tickets without manual intervention. Based on a set of criteria, a workflow automation can be triggered to perform an action, including notifying the customer about a change in status. By utilizing the powerful combination of followers and conversations, workflow automations can notify any followers via a conversation that the status has been updated.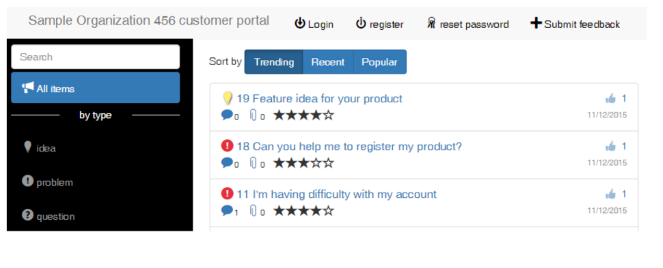 Trouble Ticket Portal
The next step in trouble ticket tracking is done using our trouble ticket portal software. This application ties directly into our Tickets application, and allows customers to log trouble tickets directly into the OneDesk system. Through ticket-forms, our users can collect all of the necessary information in order to work on a ticket.
Aside from logging new tickets, customers can also view the status of previous tickets they've logged and even communicate on tickets if they need further clarification. The degree of visibility can also be tuned in the trouble-ticket portal from restricting an individual to view their own logged tickets to allowing all customers in a particular organization to view each other's tickets.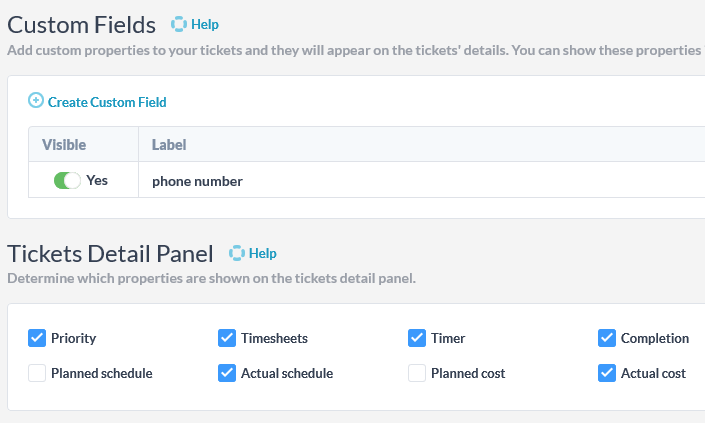 Custom Fields
Although we provide a basic template for trouble tickets, we also support the creation of custom fields. These custom fields range in the kind of data they hold, whether it's text, numbers, date, cost, or even multiple-choice radio buttons. This gives you complete control of the information that is outlined on each ticket. By storing these details on the ticket itself, the details are centralized and can be queried on or used as the basis for workflow automation.
Once a ticket type has custom fields associated with it, when a new trouble ticket is logged, the fields define a template for the data required. Our users also have the option of using our customer portal to take in new trouble tickets through web forms, which can also require certain fields to be filled in. This ensures all of the right details are there before work can begin.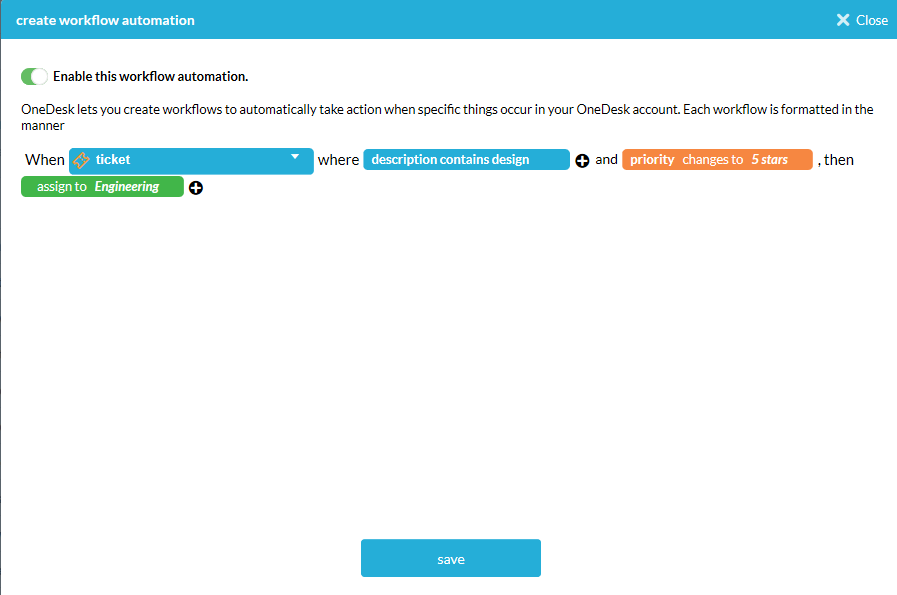 Workflow Automation
For the management of trouble tickets, taking action is key. By using OneDesk's Tickets application, trouble tickets enter a workflow that allow for the tracking of where a ticket is in its lifecycle. A Detail View of tickets clearly shows the status and displays all of the attributes and fields of a ticket. From here, management becomes a matter of looking at the information presented and identifying what needs to happen next.
This management can be even further simplified. Based on these fields and the statuses, workflow automations can be set up to automatically take action whenever certain criteria are met. By defining these criteria, a trigger is set up to kick off a subsequent action. Multiple workflow automations can be defined, which can lead to some complex automated management with only minor setup.
OneDesk is a Complete Trouble Ticket System
The key component of a trouble ticket system is the ticket itself. These tickets need to contain all of the relevant information for triaging, investigation, and eventual resolution. They also need a way to be organized and viewed. Using our Tickets application as a trouble ticket system, tickets can easily be grouped in folders or projects and views can be created to give insight into the overall situation. Our Tickets application, by default, also has a set of fields to capture some of a ticket's more important details: requester, assignee, status, description, priority. Our tickets also come with the ability to log time against them.
ONEDESK - FREE 14 DAY TRIAL
Sign up and try out OneDesk for yourself. No credit card required.