Update October 2020: We have a new knowledge base app, so please follow the new instructions here.
The OneDesk Knowledge Base App is a 'customer app' that you can add to your website widget or place directly on your website, to provide a place for your customers to find answers to their questions. It works by allowing you to create items (which we will call "KB articles") and publish them to this app.
The most common setup for the customer apps is as follows:
– The Customer Portal provides a place for customers to login and see their own tickets (or tasks).
– The Knowledge Base provides a place to publish general information and help articles, and usually login is not required
– OneDesk also offers the Messenger and Webforms applications which allow customers to chat with you and submit tickets.
This article describes the features of the knowledge base and the options you can configure.
Where to find the administration options for the Knowledge Base
You can find the Knowledge Base administration options under:
Administration > Knowledge Base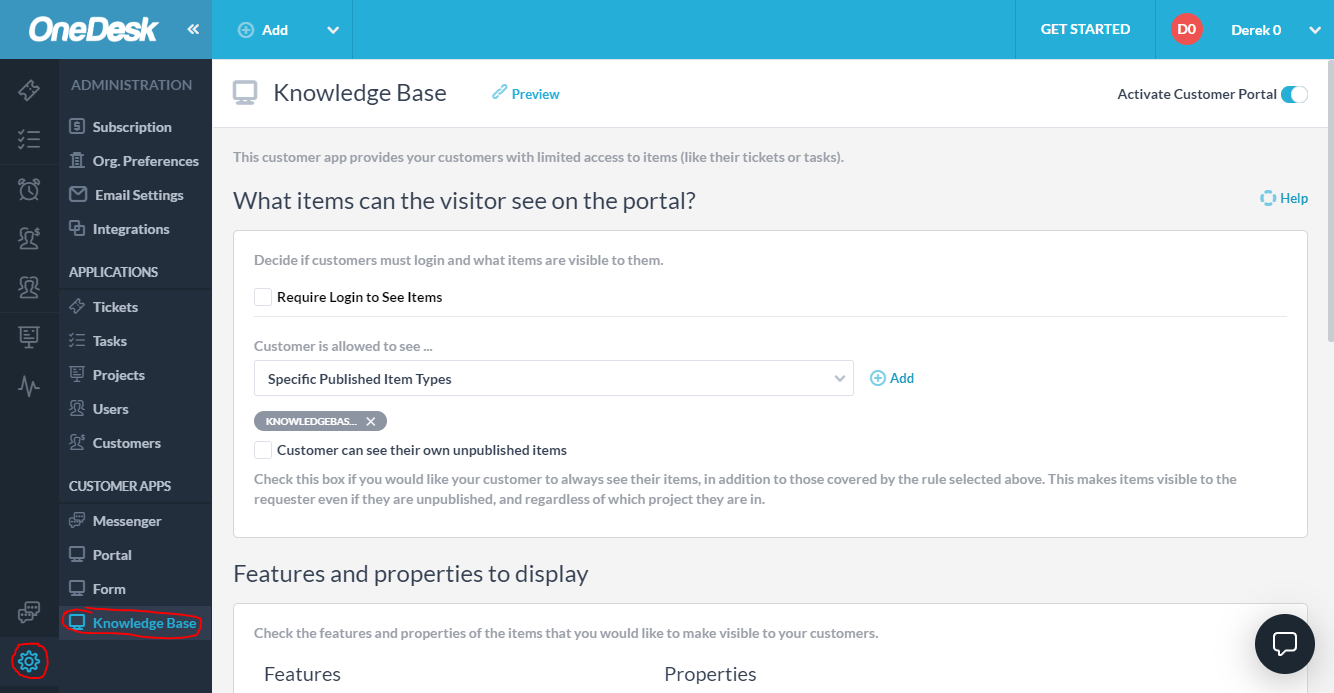 Note: If you do not see the Knowledge Base app here, please read this article on how to enable it for your account.
How to see the Knowledge Base in the way that my customers see it
The Knowledge Base 'customer app' is included in the widget you put on your website. When activated, it adds a tab to your widget. You can preview how your customer apps appear by clicking the "preview customer apps' link found under your user name in the top blue bar.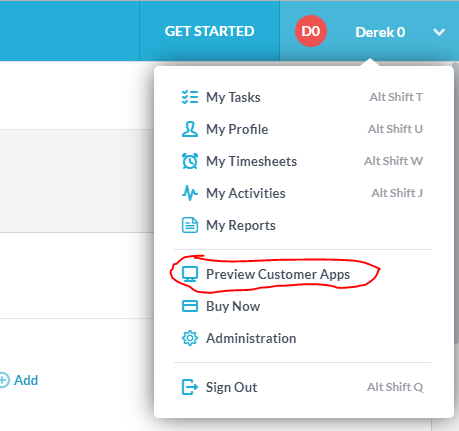 If you would like to link to the Knowledge Base directly from your website without using the widget, you can do that too. You can find the link under:
Admin > Knowledge Base
How to create and publish new KB articles
Creating Knowledge Base articles is the same as other types of items. You create them by clicking the "add" button in the top blue bar and selecting "Knowledge Base article".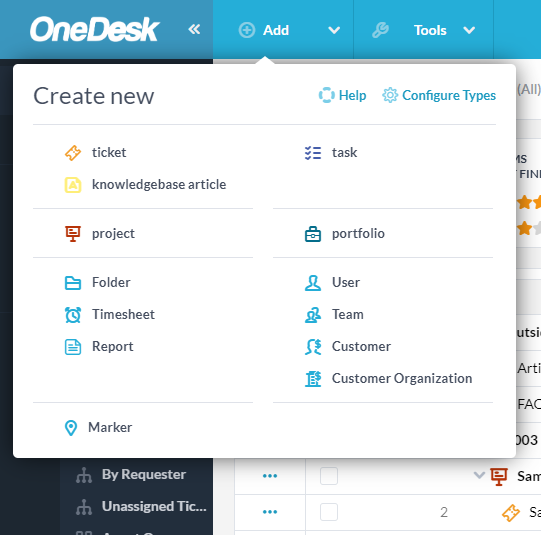 Since Knowledge Base articles are a type of ticket by default, they will show up in your tickets view. Feel free to filter out Knowledge Base articles into different views if that is the way you prefer to work.
A very useful feature in OneDesk is the ability to convert a ticket into an article. This will save you time when you write a detailed response to a ticket, which other customers could benefit from.
Note that Knowledge Base articles are published by default, but you can uncheck the "publish" checkbox on their details page to unpublish them.
What configuration options are available for the Knowledge Base App?
Under "Admin > Knowledge Base" there are many options you can use to change the way your Knowledge Base behaves. While we feel that the default settings would be good for most companies, you can modify them if you have different requirements.
What items can the customer see in this customer app
– You can "require login to see items" for your customers. Note that if you check this box then you can also decide if customers can register themselves or if you need to invite them (Found under: Admin > Customer Apps).
– "Customer is allowed to see… specific published item types". This rule changes the definition of what the customer sees in this customer app. We highly recommend that you do not change this since it will cease to behave like a Knowledge Base if you do so.
The default option of "selected published item types" allows you to define the types of items that appear on your Knowledge Base App. If you would like multiple types of articles, you can add them to your Knowledge Base app here. Note that you will first need to enable these item types to be able to create them.
Features and properties to display
Knowledge Base articles are like any other item type in OneDesk. We have defaulted the properties that make most sense on an article, but you may want to modify what your customer can see.
Webforms
This section displays which (if any) webforms are linked from this portal. In general customers cannot submit Knowledge Base articles so you will probably not want to link any forms.
How to put the Knowledge Base on your website
The easiest way to put the Knowledge Base on your website is by putting the OneDesk 'Customer Apps' widget on your website. Other options include:
– Linking directly to the Knowledge Base
– Embedding it using an iframe
You can read more about how to do that here