One of the advantages of using OneDesk is that it allows you to import files and keep working on them in OneDesk for a more streamlined business process. Importing files allows you to save time entering items – imagine needing to manually enter hundreds of feedback, ideas, help desk tickets, issues or tasks.
Microsoft Project files (.mpp /.mpt) files can be imported into OneDesk's issues/task application.
Any information in all of OneDesk applications can be exported to .csv (Excel) format.
Importing a Microsoft Project File
Bringing your MS project files into OneDesk results in many advantages – learn about them here.
To import a .mpp or .mpt file:
– Go to the project you wish to import the file in
– Go to the issues/tasks application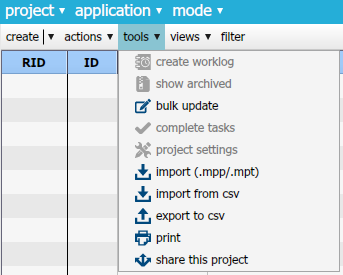 – Select the Tools drop-down
– Select import .mpp/.mpt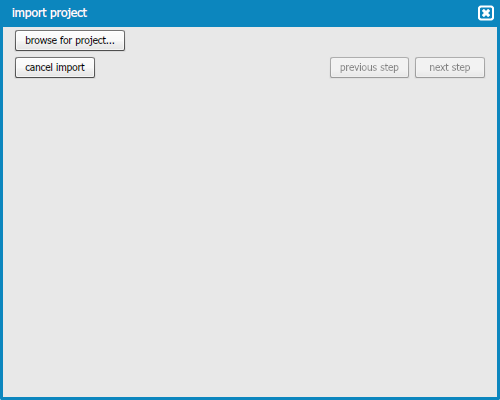 – An Import Project window will appear
– Click Browse for project.
– Find the mpp or .mpt file you wish to import.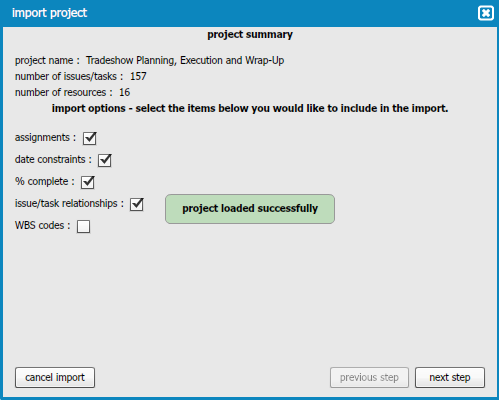 Information about the project and a list of import options will appear.
– Select the items you wish to import by placing a check mark next to the item (1).

– If you have chosen to import your assignments, a Resource mapping list, like the one above, will appear.
Here, you may choose to import your assignments and map them to a resource.
This is optional, but note that if you do not select any resources for a particular task, there will not be any assignments created for that task.
To assign a resource to your tasks:
– Click the drop-down arrows next to each task, and select a user resource, or a generic resource from the list. This list is generated from the resources in your project
– If you would like to create a new generic resource for a task (it will be named according to the imported resource name), place a check mark in the box under the New generic resource column, next to the task you would like to create the new generic resource for.

Then, begin your import. While it's importing, you will see the progress at the top-right of the interface.
Importing and exporting .csv files
.csv files can be imported to and exported from OneDesk in all projects, or in a specific project.
Simply click on the tools button in the desired application and select import from CSV. Then, just browse for your file and import or export.
Here is a list of all applications and the .csv options available:
In the all projects view
Feedback – Import and Export
Requirements – Import and Export
Issues/tasks – Import and Export
Help desk -Import and Export
Ideas – Import and Export
In a specific project
Feedback – Export
Requirements – Import and Export
Issues/tasks – Import and Export
Help desk – Export
Ideas – Export