Help Desk & Project Management Software for Design & Creative Service Companies
Design & Creative Services Companies
Design projects move quickly – from concept to creation, change requests, and preparing the final packages, you need to be organized with all of your client's requests. Bouncing back and forth between multiple projects and clients can be daunting without a robust system in place to help you maintain your structure. OneDesk offers a Software Solution for Design & Creative Service Companies.
OneDesk combines Help Desk & Project Management software into a single application – it increases efficiency by eliminating the need for multiple applications. Implementing a unified system means your creative and support teams can work concurrently.
Utilizing the Help Desk side of OneDesk enables convenient client and contact management: from Creative Directors, Art Directors, and Graphic Designers. OneDesk allows you to manage tickets, maintain a knowledge base & FAQ, create automations, and export intuitive reports. Furthermore, OneDesk makes file sharing simple: you can add attachments of any file type to conversations within the software.
The Project Management Software for Design & Creative Service side of OneDesk is a great way to manage all of your design projects. You can set goals, make sure your team is on schedule, and track performance.
Help Desk for Design & Creative Services Companies
Provide Superior Customer Support: OneDesk's built-in help desk software lets you capture support tickets, assign and respond to them from one centralized place. You can use tickets as a way to log incoming requests. Simultaneously hold private internal conversations and separate client-facing discussions on the same ticket. Share Illustrator files, PDF's and any other attachment as well.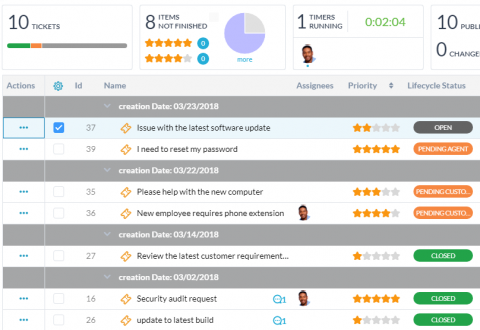 Project Management for Design & Creative Services
Online Team Collaboration and Project Tracking: Plan your projects, tasks, cost, and schedule within OneDesk. Discuss tasks and issues with your team and customers, and capture hours worked using timesheets or work timers. In OneDesk you can track tasks and issues together, view your tasks/projects as Gantt charts, and generate reports. OneDesk provides you with project management software that can help you collaborate seamlessly with all team members, meet goals and deadlines, and give you a platform to discuss upcoming ideas.
Discussions & Team Collaboration for Design & Creative Services
In OneDesk you can share projects with the entire team, with specific members such as Concept Artists, Illustrators, Account Executives, or keep them private. Everyone sees only what pertains to them and this, in turn, will increase efficiency. You can view your resources' workload and easily re-assign tasks for optimal time management and work distribution between teams and members. Discussion and collaboration is an important factor for design & creative services, and OneDesk makes this possible with several features. With conversation features enabled on tasks and tickets, your team can easily communicate with each other in private messages, or with the customer on the related item.
100s of Integrations for Design & Creative Services Companies
You can connect OneDesk to hundreds of web applications:
Connect with marketing automation software to create new subscribers from OneDesk clients.
Connect with accounting & invoicing software to create new client invoices from OneDesk timesheets.
Connect with instant messaging platforms and post messages to channels when new comments are made in OneDesk.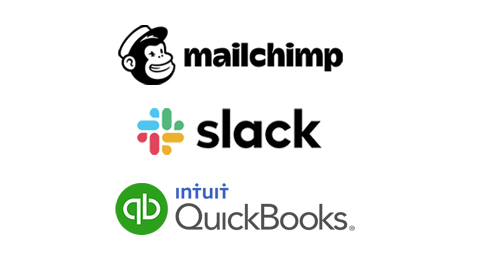 Reporting for Design & Creative Services
Extract data and create insightful reports in OneDesk using pre-created templates or by customizing your own. Automatically schedule and email Excel or PDF documents. This will aid in creating your client invoices, timesheets, etc. OneDesk allows Design & Creative Services to generate reports on tickets, tasks, and user activities on a weekly or monthly basis.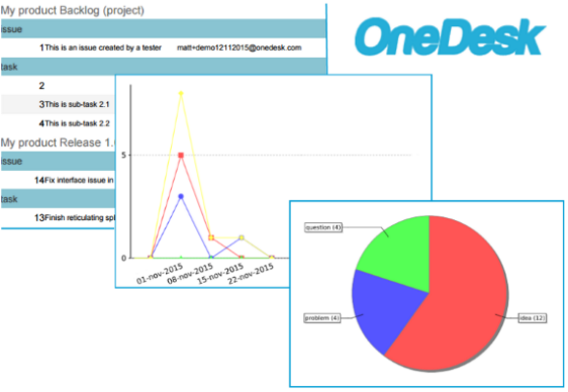 Assign Tasks to Design & Creative Teams
Keep your entire team in the loop (including customers) with built-in discussions and email notifications on tasks and projects. View your resources' workload and easily reassign tasks for optimal time management and work distribution between teams and members. Your teams can utilize the conversation feature on tasks to brainstorm ideas and share files with each other.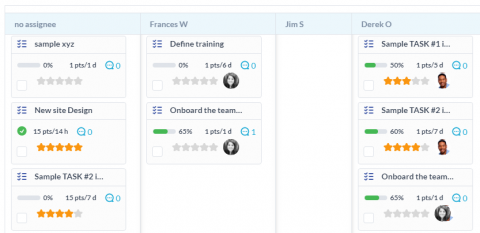 Mobile App for Design & Creative Agencies
Carry your OneDesk around with you. Our mobile app connects to your OneDesk account so you can:
Access, create, and reply to Help Desk tickets.
Get notified of new assignments.
Log work with timers & timesheets.
Create new tasks and submit them to your projects.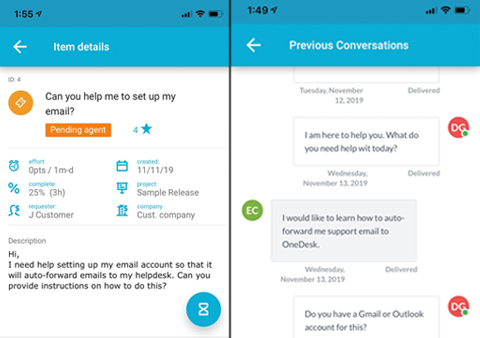 Email Integration for Design & Creative Agencies
Capture and respond to customer emails directly from your OneDesk account. OneDesk will create a new ticket from the email, capture attachments, and create a new customer record if necessary. If you're receiving an Illustrator file via email, OneDesk will create a ticket and log the file in the ticket.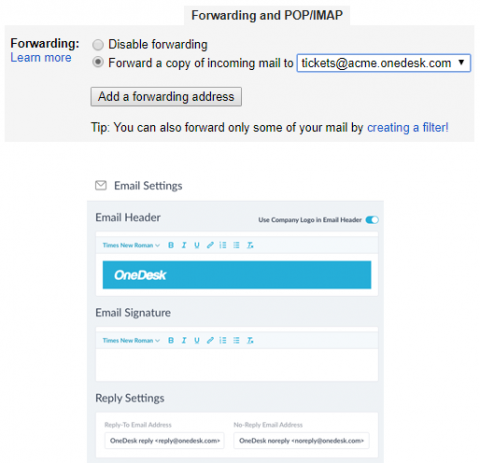 Customer Web Portal
OneDesk includes a web-portal designed especially for your customers. Engage with them on your website and allow them to report issues, make suggestions, and receive answers. The web portal is completely customizable – you can change the appearance, features, behaviour, and customer permissions.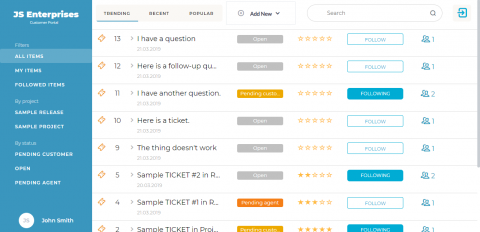 Knowledge Base & FAQ for Design & Creative Agencies
Always answering the same questions on pricing, lead times, and available services? Let customers find the answers quickly by publishing FAQ's to the knowledge base. Increase customer satisfaction while reducing the workload on your support team.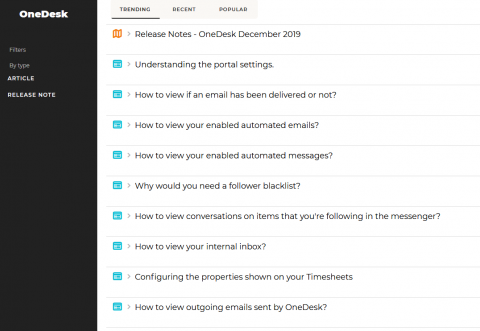 Completely Customizable
OneDesk can be customized to your preferences. With hundreds of options, you can change colours and layout, create custom messages and intelligent automations, and more.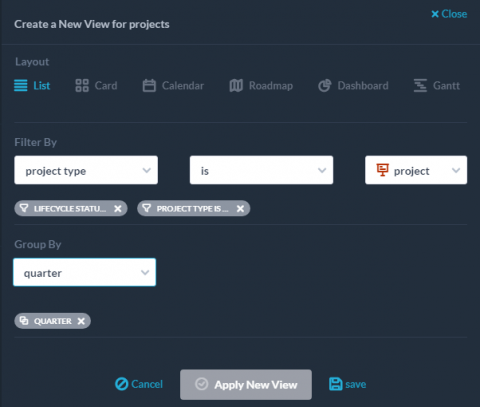 ONEDESK - FREE 14 DAY TRIAL
Sign up and try out OneDesk for yourself. No credit card required.
Watch this video showing how your creative or design firm can use OneDesk