Help Desk & Project Management Software for Nonprofit Organizations
According to
nonprofit hub
, the three biggest challenges for nonprofits include: retaining/engaging donors, sustainability, and not having enough resources. Add having to manage ever-changing Government regulations, fundraising, and recruitment just to name a few more. OneDesk combines Help Desk & Project Management Software for nonprofit organizations into a single application – it increases efficiency by eliminating the need for multiple applications. Implementing a unified system means your organization, volunteers, donors, and sponsors can work concurrently.Utilizing the Help Desk side of OneDesk enables convenient client and contact management, from Sponsors, Donors, Volunteers, and all departments within your organization. OneDesk allows you to manage tickets, maintain a knowledge base & FAQ, create automations, and export intuitive reports.
The Project Management side of OneDesk Software for Nonprofits is great for the management of fundraising initiatives and the contact management of vendors. You can set goals for funding, recruitment, and projects to engage donors, while making sure you're coordinated with all involved parties.
Special Pricing
To recognize your goodwill efforts, OneDesk is happy to provide a 30% discount to all nonprofit organizations. Simply contact us and we will apply the discount to your account.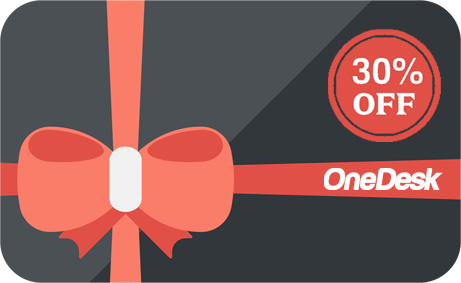 Help Desk
Provide Superior Customer Support: OneDesk's built-in help desk software lets you capture, assign, and respond to support tickets from one centralized place. Simultaneously hold private internal conversations and separate client-facing discussions on the same ticket.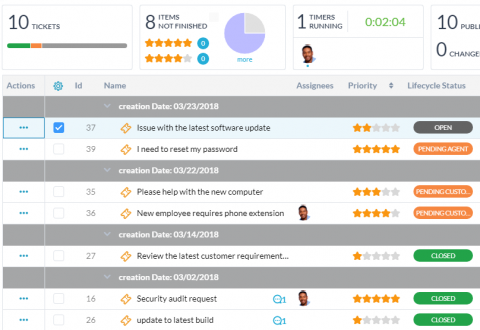 Project Management
Online Team Collaboration and Project Tracking: Plan your projects, tasks, cost, and schedule within OneDesk. Discuss tasks and issues with your team and vendors, and capture hours worked using timesheets or work timers. In OneDesk you can track tasks and issues together, view your tasks/projects as Gantt charts, and generate reports.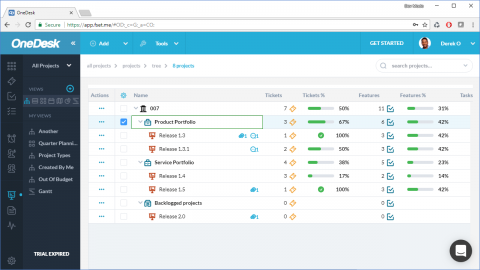 Discussions & Team Collaboration
In OneDesk you can share projects with the entire team, with specific members within the organization, volunteers, donors, or keep them private. Everyone sees only what pertains to them and this, in turn, will increase efficiency. You can view your resources' workload and easily re-assign tasks for optimal time management and work distribution between teams and members.
100s of Integrations
You can connect OneDesk to hundreds of web applications:
Connect with accounting & invoicing software to create new invoices from OneDesk timesheets.
Connect with marketing automation software to grow your lists.
Connect with online survey development software to create surveys and get answers easily from your volunteers and donors.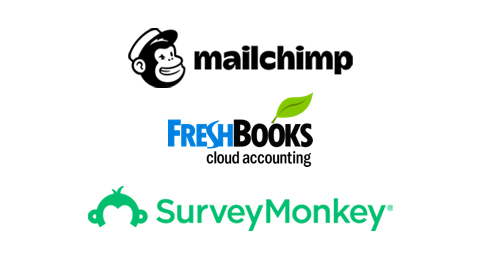 Reporting
Extract data and create insightful reports in OneDesk using pre-created templates or by customizing your own. Automatically schedule and email Excel or PDF documents. This will aid in creating your balance sheets, revenue reports, membership lists, etc.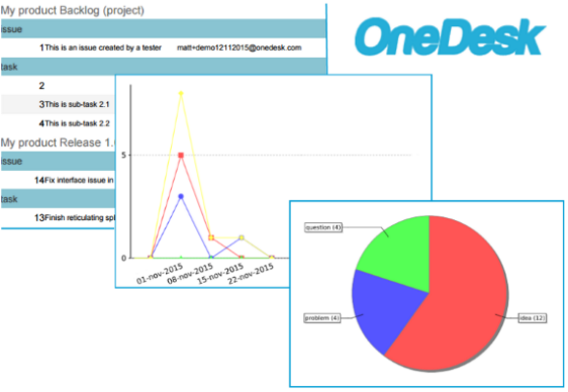 Assign Tasks to Teams
Keep your entire team in the loop (including donors) with built-in discussions and email notifications on tasks and projects. View your resources' workload and easily reassign tasks for optimal time management and work distribution between teams and members.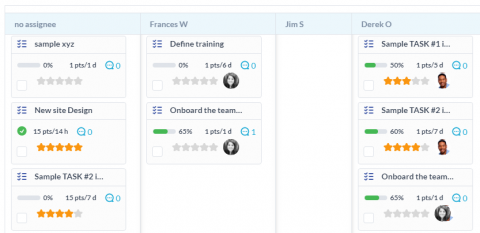 Mobile App
Carry your OneDesk around with you. Our mobile app connects to your OneDesk account so you can:
Access, create, and reply to Help Desk tickets.
Get notified of new assignments.
Log work with timers & timesheets.
Create new tasks and submit them to your projects.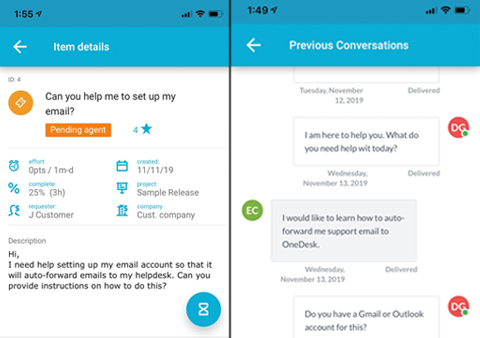 Email Integration
Capture and respond to emails directly from your OneDesk account. OneDesk will create a new ticket from the email, capture attachments, and create a new donor/sponsor record if necessary.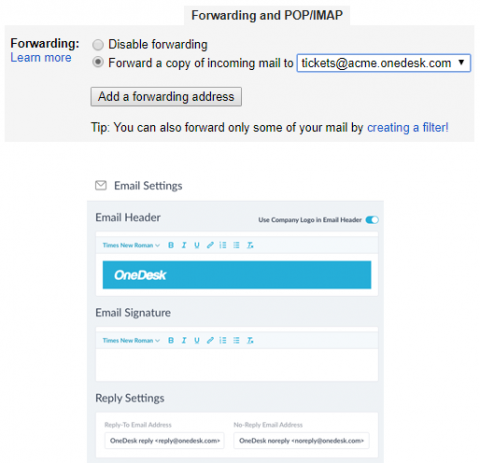 Customer Web Portal
OneDesk includes a web-portal designed especially for your partners. Engage with them on your website and allow them to report issues, make suggestions, and receive answers. The web portal is completely customizable – you can change the appearance, features, behaviour, and customer permissions.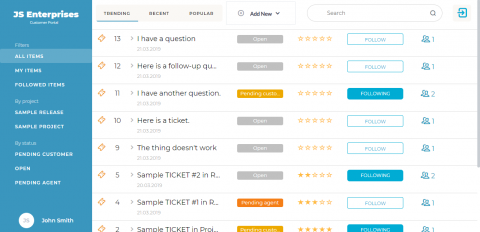 Knowledge Base & FAQ
Always answering the same questions on partnerships, tax exemptions, or legal queries? Let sponsors find the answers quickly by publishing FAQ's to the knowledge base. Increase customer satisfaction while reducing the workload on your support team.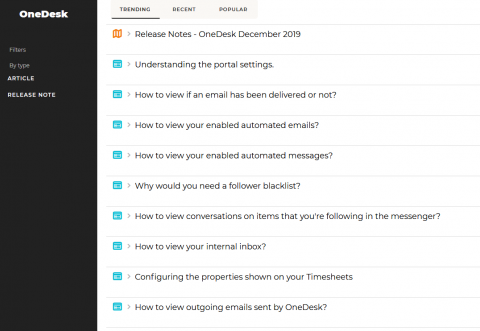 Completely Customizable
OneDesk can be customized to your preferences. With hundreds of options, you can change colours and layout, create custom messages and intelligent automations, and more.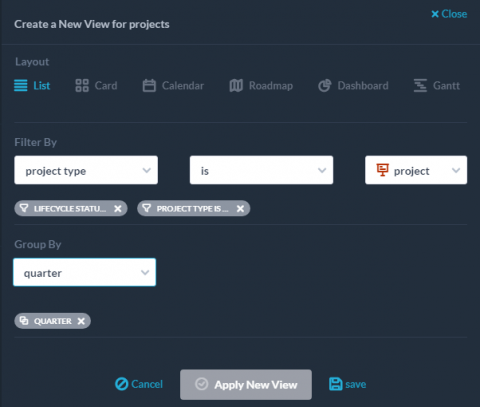 Hospital Case Study
A major teaching hospital and biomedical research facility in the United States (who has asked to remain anonymous) is using OneDesk for their Project Management needs. This hospital educates medical students, scientists, health care professionals, and the public. They treat nearly three million patients annually. Click to read their case study HERE.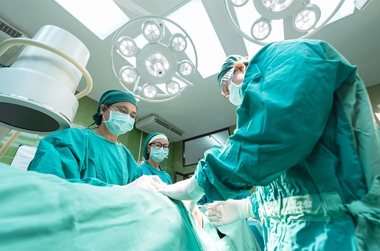 Watch a video showing how your nonprofit organization can use OneDesk
ONEDESK - FREE 14 DAY TRIAL
Sign up and try out OneDesk for yourself. No credit card required.