Your tools integrated with OneDesk
OneDesk connects to many popular web applications to make your life easier.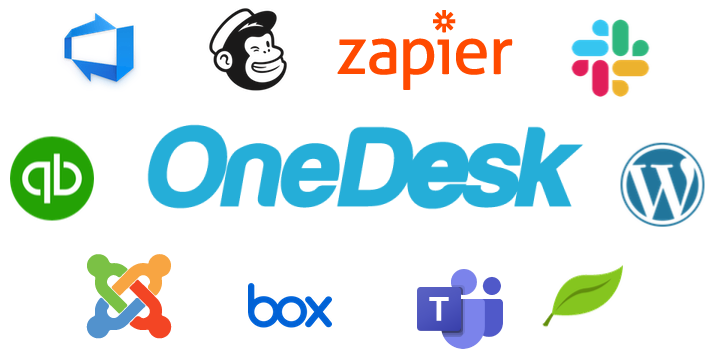 Connect OneDesk to other popular web apps
You can integrate OneDesk's helpdesk and project management software with many web applications. Below you will find a selection of direct integrations, connectors, and plugins for popular web apps. You can also use Zapier to connect to hundreds more.
When OneDesk is connected with other apps, some of the things you can achieve more easily are:
Website: Add apps to your website for ticketing, client-portal, knowledgebase & live chat
Accounting & Invoicing: Seamlessly invoice your customers for the work you have done
Other Business Apps: Sync tickets and tasks with other CRM, helpdesk, or project management applications
Marketing Automation and email: Connect to marketing and email applications to manage subscribers
Source Control & ALM: Connect tickets and tasks to commits, push requests, issues, tasks, and user stories
Team Collaboration: Create tickets and tasks directly from team chat
Calendars: Put your OneDesk tasks on your calendar
Cloud Storage: Attach files directly from cloud storage apps
SSO: Use SSO to automatically authenticate from your identity and access provider
Forms: Customize your ticket forms with 3rd party form apps
Social: Automatically capture customer communications from social media
OneDesk Integrates directly with these Apps:
The following applications have direct connectors with OneDesk with more on the way. Let us know if there are other apps you would like to see added to the list.
Get started with a 14-day free trial of OneDesk.
No credit card required.