Is this the last we will see of the Cranky Product Manager?
Well, not exactly.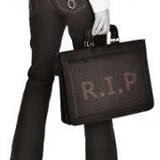 Judging by her last few posts back in September 2012, it appears that the Cranky PM will be taking a permanent vacation from her well recognized and respected blog, The Cranky Product Manager, in order to devote her full attention to writing a book.
Over the years, she has provided her readers with her honest and direct views surrounding a wide array of product management topics such as market research, customer management, roadmapping, requirements management, agile methodologies, sales, engineering (just to name a few). In fact, OneDesk and the Cranky PM even shared the spotlight in last year's edition of the Product Management Journal, published by Product Focus.
R.I.P Cranky PM Blog
As we head full speed into 2013, let us take a moment to look back on some of her best (and most controversial) blog posts:
Top five greatest posts from the Cranky PM
1. 10 Things The Cranky Product Manager Has Learned about Product Management
2. To The Agile Community– WTF is Wrong With You?
3. Guest Post: The Cranky Test For Agile Product Managers
4. Divine Rules For Product Managers #2: On Dealing With Unreasonable Customer Demands
5. Last but not least, all 6 parts of the World's Most Generic Product Management Interview
Sadly, the product management community will miss the Cranky PM's frighteningly accurate, and refreshingly raw, expert insight. Nevertheless, we will be anxiously watching and waiting for her to start the er- next chapter of her career (pun intended).
Share your comments with our readers: What is your favorite Cranky PM post and why?