Here are the new features and enhancements for the May 2020 Release of OneDesk. This release was rolled out on May 12, 2020.
Tabbed view for detail panels and item creation forms.
Now you can open detail panels in new tabs inside OneDesk. All detail panels such as those for tickets, tasks, projects, customers, organizations, conversations, and more can be opened in a new tab. Here are the new things you can do with this feature.
See a lot more details of the item without having to scroll.
Open multiple different things at the same time and switch between them without having to navigate back and forth.
Remember your open tabs between sessions. However this will not remember unsaved items.
Use the middle (scroll wheel) button to open items in new tabs without going to that tab. You can open a few things quickly and switch between them one-by-one afterwards.
Open links to items (from inside the app or from emailed links) and go directly to the details of the item.
Open item creation forms (for tickets tasks etc.) and keep them open until you are ready to complete them. Note that refreshing your browser will not retain unsaved items.
Highly interactive tab bar: Close one or multiple tabs using the RMB, drag and drop to re-order, flash a tab when you attempt to open something you already have open, get indicators on conversations with new messages, get warned when closing unsaved items, and more.
This feature opens up many new ways of working in OneDesk and we think you will love it.
Note: If you prefer to open the detail panel on the right of your view, that option is still available from the "Tools" menu.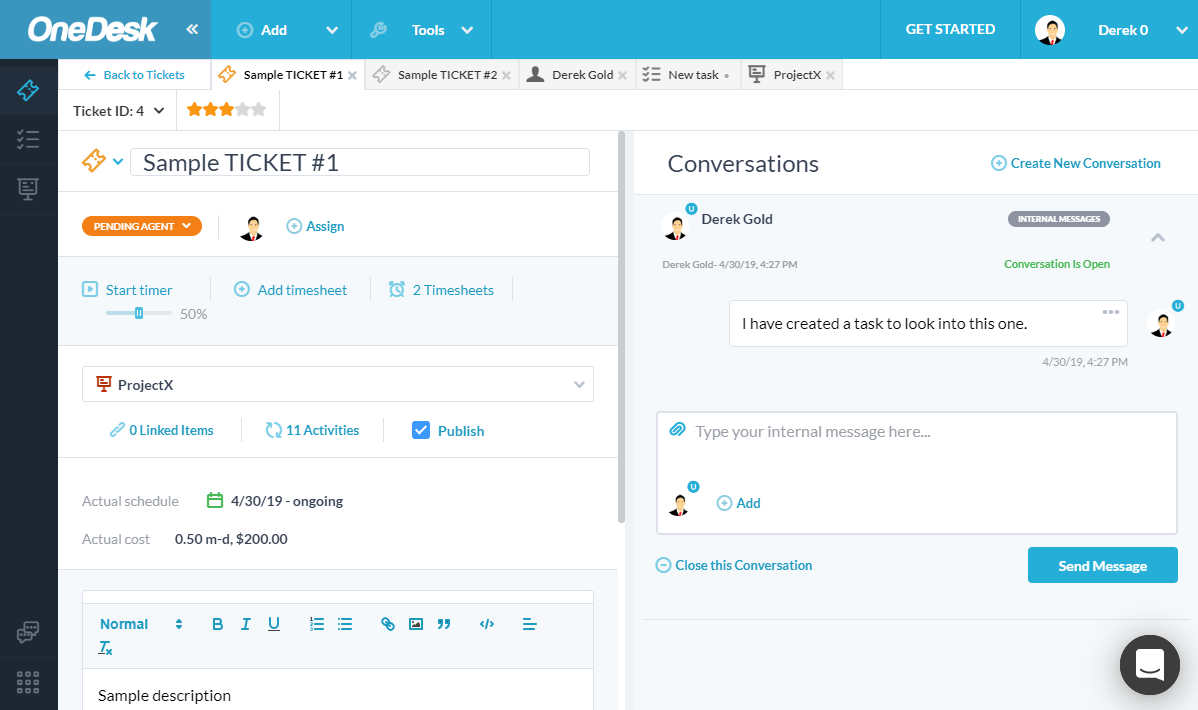 Assign by Round-Robin
If you need to automatically assign users to tickets or tasks your life got easier. In 'Workflow Automations', you can choose the "Assign by round-robin" action and select a group of users or teams. Some things to know:
The round-robin starts with the first person on the list and rotates through it. If you modify the list it will start again at the beginning.
You can have more than one workflow that assigns things, each with a different round-robin group. This means you can assign one type of ticket to group1 and a different type of ticket to group2.
Assigning to a team will assign to the team itself not the individual users in the team. To assign to users you will need to select them individually.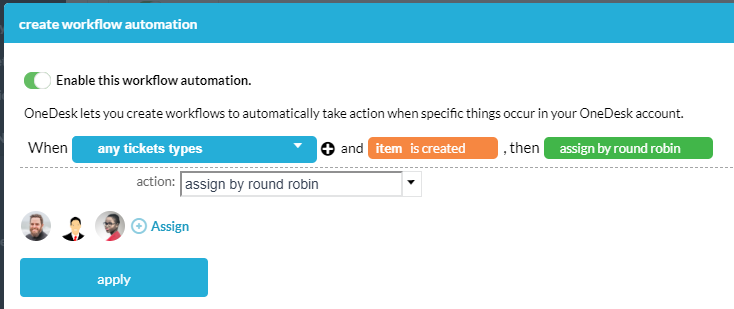 Custom Fields upgrades
By popular demand we have upgraded our custom fields with the following features:
Custom fields can be displayed on a list of specific projects rather than all projects or only one.
You can modify that list projects after the fact.
Custom fields can be shown on different objects, such as items, users, and projects.
You can add custom fields to forms.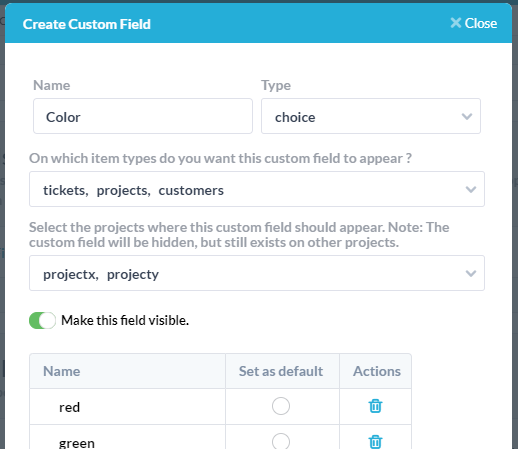 Some things to know:
These upgrades apply to new custom fields only. Unfortunately, your existing project-level custom fields cannot be migrated.
You may complete the value of a CF on an item in project1 and then move the item to a second project where the field is not shown. In this case, the custom field will not be shown but it is still on the item and its value is still saved. It will therefore appear when filtering for this CF value.
Other Enhancements
Improved sign up experience for mobile devices.
Ability to update your payment method inside OneDesk. We use Stripe's payment platform.
Added Sign Up and Sign In with Microsoft accounts.
Improved performance for some groupings in custom views.
Added a filter – by the latest close date.
Ability to hide the "chat with OneDesk" bubble in the lower right of the screen. Do this under:
Administration > Company Prefs. > Other Settings