Most searched words in 2012 show that the world is going social
While trillions of worldwide searches were conducted on 2012's most talked-about topics, including the London 2012 Olympics, the death of Whitney Houston, and viral pop-hit Gangnam Style, a quick glance at Google's 12th Zeitgeist rankings show that many people worldwide are educating and immersing themselves on the social world.
Here are some top searches / trends that caught our eye from the report:
The most searched word in 2012 Canada was Pinterest.
In Turkey, the top two trending searches were Facebook and You Tube.
In Norway, Netflix takes its place as the number one search trend. In eighth place is Instagram.
The most searched for app in Spain was Twitter. It seems like many people in Spain are doing their best to get involved in the social media world; the top two "how-to" searches were How to use Twitter, and How to use What's App.
Also in Spain, the top 10 "what is" searches almost all had to do with social technology, with Instagram, Pinterest, Twitter and LinkedIn making the top four.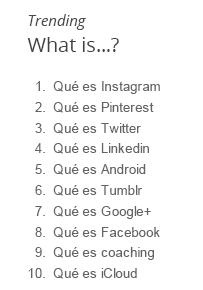 In the United States, Facebook, online social games provider Zynga and local business directory Yelp took the first three spots in the trending stocks category.
Knowledge about social technology is even spreading to third-world countries. In Uganda, What is Twitter made the top 10 list of most-searched technology-focused questions.
Aside from this report, it's obvious that more and more people are using social media to connect with others. Today marks an important day for those in the Catholic community as Pope Benedict XVI sent out his first tweet from his personal Twitter account.
Companies are also turning to social media to connect with customers and provide a better customer experience. We like this article by Marketing Pilgrim about why Ikea decided to make their catalogue social.