OneDesk's workflow application was designed, as usual, with your feedback in mind.
The new and improved version allows you to easily create workflows that solidifies your team, processes and project data.
A few benefits of using a workflow application
– Reduces manual data entry and processes
– Eliminates process errors
– Resolve customer issues more quickly
– Never miss a customer request, idea, or feedback
– Avoid repetitive tasks and save time
– Improve productivity
A few examples of when you would want to set up a workflow
– Reassign customer service issues while you are away
– Keep track of a service level agreement
– Receive reminders about open help desk items
– Create personalized email responses for each customer email
– Automatically notify your team when any item has been updated, changed or completed
– Make mass updates to feedback, help desk tickets or product requirements
– Assign items in bulk
Where is the workflows application?
To get to the workflows application, go to Administration and select Workflows. This means that in order to be able to set up workflows, you need to be an administrator.
How to set up a workflow

In the workflows application, click create and select workflow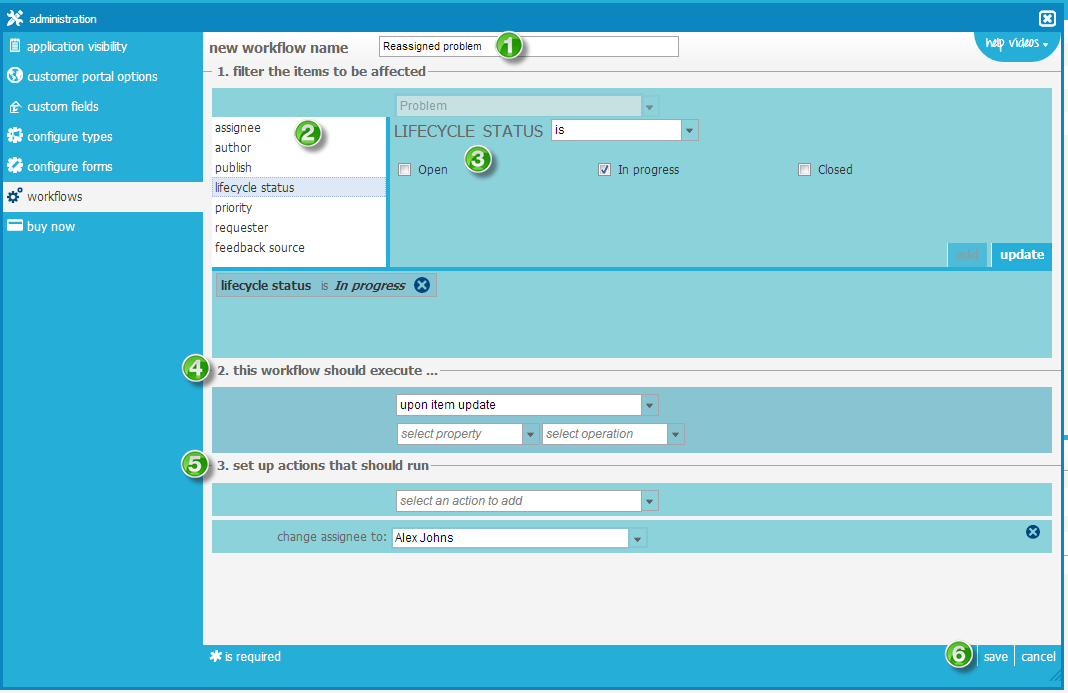 1. Name your workflow. In this example, we created a workflow that allows us to reassign problems as soon as the lifecycle status changes to in progress
2. Choose the criteria you wish to automate
3. Specify its details
4. Choose when the workflow should execute
5. Specify the actions that should run
6. Save your workflow