Feature Spotlight: Preset Report Options
OneDesk is an application with many features and options. A lot of those are meant to improve how you gather, view and export your data. Last time we had a look at the Export a View function within OneDesk and how, coupled with the stackable filter functions, this could become a useful reporting option for those who need something a little more personal when it comes to their data. Well, this time we will be looking at the preset report options that OneDesk has to offer. And there are a lot.
What are Preset Report Options in OneDesk?
OneDesk offers many ways of compiling or creating and exporting reports, but the preset reporting in OneDesk is by far the largest. Located in the Reports tab on the left-hand side of the screen they are always within reach.
This is by far the simplest option at your disposal, just pick a report and pick a format. That's it.
What are these preset reports used for?
Preset reports take on different types and formats, simply choose from one of the categories available:
Project Management

Roadmap

Feedback Management

Product Management

Timesheets

All Items
And then choose a specific type like "Timesheets Aggregated by Projects" or even "Feedback Created Week by Week", etc.
Finally, You will get to choose a format for that report; and many offer the whole suite of HTML, PDF, CSV or Excel for you to choose from.
Where to find all this:
Like we said, it's very straightforward, simply look for the reports tab in the left-hand side of your screen.
It is important to note that the "container-level" you have selected will determine the data included in the report. For example: If "all containers" is selected in the top left corner, then the report you generate will include data from all your containers. If a lower container-level is selected (for example a portfolio), then the report will include only the data from that portfolio. In this way, you can generate reports for any level or your hierarchy that you want.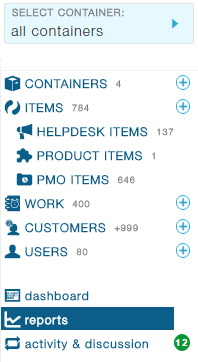 Then pick a reporting category and the type of report you would like to view (and there are many).
And finally, under the name of each report, you will have the ability to pick a format for the report you want.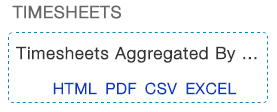 Note that the report will open in a new tab of your Browser.
If for any reason you cannot find the report you need, send us a message detailing which reporting option interests you and we could add it to the list! Or we invite you to try the Export a View option within OneDesk to create your own custom reports. If you need more information about us or our product, please visit our website or book a demo with us here.
Photo Credit: "Post-it Notes" / Dean Hochman / CC BY