OneDesk for Product Management
OneDesk's product management software allows you to easily capture and manage ideas, stories, & requirements. Manage product hierarchies and share projects, roadmaps and plans.
Product hierarchy
Organize products and releases into product families, portfolios and more.
Product Roadmapping
Show product plans on a timeline to share with customers, teams, and executives.
Innovation management
Capture and score and rank ideas from customers, team members, and business partners.
Dashboards & Reports
Real-time dashboards and printable, shareable, reports.
Importing & exporting
You can always get your data in and out of OneDesk if you need to manipulate it in a spreadsheet or document.
Requirements management
Centralize requirements management activities. Trace requirements to customers and initiatives.
Capture Product Feedback
A complete toolkit to capture feedback and ideas from customers, team members and business partners including a website portal and email capture. Take each idea through a defined life-cycle to ensure nothing falls through the cracks.
Product Roadmaps & Calendars
Generate your product, release, portfolio, or project roadmaps dynamically. Accurately analyze past release information and plan for future releases.

Requirements management
Develop, manage, and assign requirements from one application. Easily discuss, elaborate and share supporting documents with product teams.

Feature Prioritization & Idea Scoring
Use the prioritization tool to make informed, validated decisions about new features and product ideas. Score and compare across weighted metrics including: Popularity, Priority, ROI and Ease-of-Effort.

Collaborate on and validate product details and requirements
Discuss and share project and product details with internal team members or customers. Address stakeholders' concerns before work starts.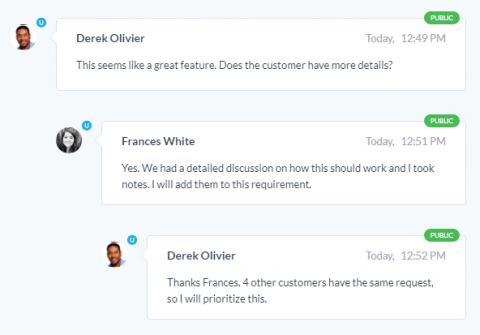 Organize your product portfolio
Create product hierarchies and easily plan out and manage multiple products, product families, releases, features, components, modules or whatever else you need to manage. OneDesk adapts to your product structure and naming conventions.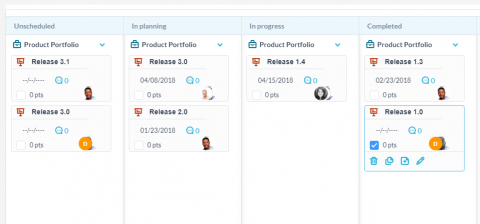 Present product plans to teams and executives
Share your product plans with confidence at your next meeting. Easily import and export data and create reports in just a few clicks.

A Mobile App – For Quick Updates
The OneDesk mobile app gives users access to their OneDesk account on the go. Your team can discuss, update, and log timesheets on tasks and tickets directly from their phone. It even has a built-in work timer.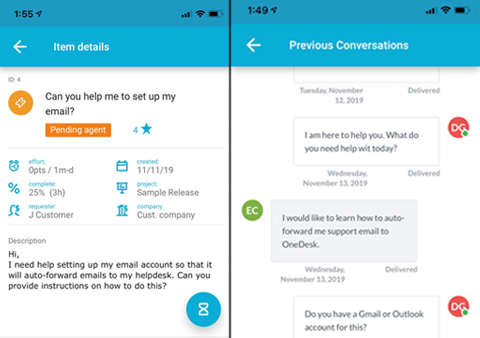 Sign up and try it out.
Sign up and try out OneDesk for yourself. No credit card required.