Assignment Tracking Software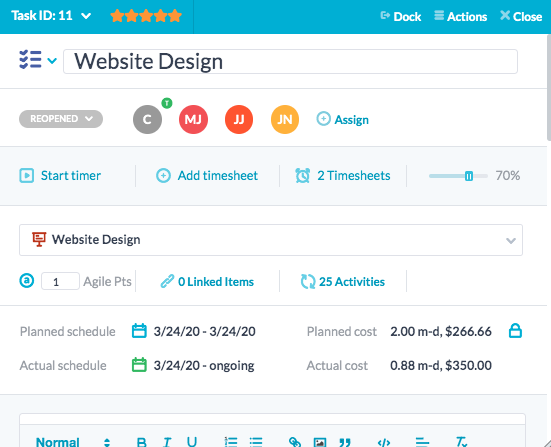 Assignment Tracking Software
Having assignment tracking software in OneDesk means you can easily monitor and track what work is being done by you and your team members. Project managers have the ability to assign various tasks to either one team member, a select few team members, or the whole team. In each case, those individuals are responsible for completing the work that has been assigned to them and can communicate on the tasks with other team members.
With the 'conversation' feature, answers can be provided rapidly whenever the assigned team member has questions. There are many benefits to having assignment tracking software including:
Adjust work schedules and manage deadlines
Traceable workflows as work are being done online
The ability to manage all tasks using one platform
Share workload amongst team members
Assignment tracking software is made easy in OneDesk with clear identification of who is responsible for each task, and how much work they have completed in the respective task.
Work Assignment Software
Work assignment software allows your project managers to easily see what team members are working on. They can then gauge if they have to reassign tasks, or who to assign new tasks to. Furthermore, with work assignment software you can more evenly distribute workload between team members. This increases the number of tasks that get completed, and can even reduce the time spent on completing individual tasks. OneDesk makes this much easier by providing you view options to view individual assignees' tasks, and how much they have completed.
Project managers can use the conversation feature to have quick follow-ups on what members are working on, or if they require any assistance. They can receive immediate status updates by simply clicking on the task to see what current lifecycle status the task is in.

Assignment Tracking System
An assignment tracking system allows project managers to track the time spent by each team member on each individual task. With this feature, you can track the productivity of your team members so your team managers know if tasks need to be reassigned. With OneDesk, it becomes easy to reassign tasks to other team members. You can use the Kanban-styled card board and customize the view to see each respective team members tasks and move certain tasks around to distribute it to a team member who has the availability to work on it.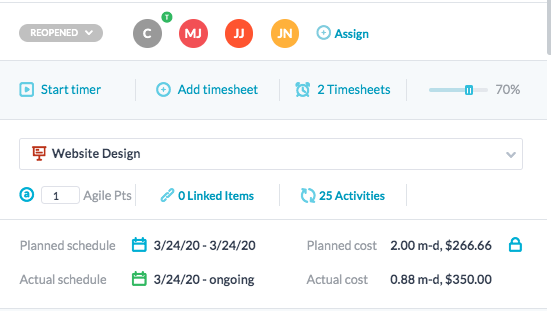 Assignment Management System
An assignment management system allows you to track tasks as well as their progress. Assignment management software allows you to manage the work you and your team do by delegating tasks to various team members and setting deadlines for these tasks per assignee. OneDesk provides you with an assignment management system to delegate these tasks, along with features to have multiple team members working on a specific task. All of these individuals would be in charge of logging the work they do on the task and can utilize the conversation feature on tasks to communicate rapidly with their other team members.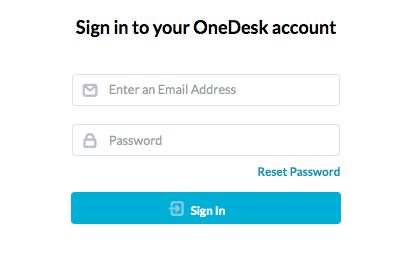 Benefits of Using OneDesk
Having an assignment management app means you can access what has been assigned to you from any location, at any time. This allows your team members to work remotely, and OneDesk helps remove these boundaries with numerous features such as the conversation features. Furthermore, an assignment management app means you can have all your tasks in one single platform in an organized fashion. In turn, this eliminates losing sight of what tasks have yet to be completed as you can view what each member has been assigned. Your team members can also use the internal inbox on OneDesk to view when someone has directed a message to them. Direct messaging features mean you can quickly receive updates on the status of tasks that each assignee is working on. Assignees can also use the internal inbox feature to work collaboratively with other members to ensure that all assignees of the task are in the loop of what they're working on.
ONEDESK - FREE 14 DAY TRIAL
Sign up and try out OneDesk for yourself. No credit card required.