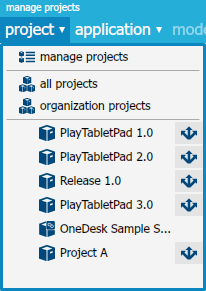 There are three parts of the Project drop-down. Here is a guide to each one.
Manage projects

Here, you can:
– View all the projects you are part of
– Create projects
– Share projects
– View the users in the project and manage their roles
– Modify projects
– Archive projects
– Leave projects
– Delete projects
– Find projects to join (under tools)
You can also quickly access the applications in a particular project, for example feedback (1), requirements (2), issues/tasks (3), polls (4), blogs (5).
All Projects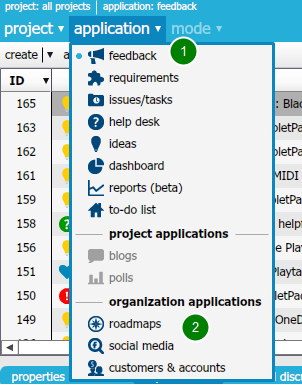 If you simply click on All Projects, nothing will happen.
The All Projects option allows you to view all information about all the projects you are part of, in each application.
Therefore, when you select All Projects, you must all select one of the applications (1).
Note that you must be in the All Projects mode to view/create roadmaps, use the social media monitoring tool, and access customer information (2).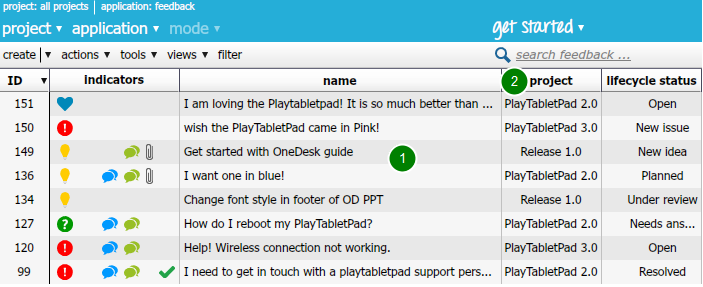 Here, I selected All Projects, then chose to display the feedback application.
As you can see, we can view all the feedback (1), in all the different projects I am part of (2).
Organization Projects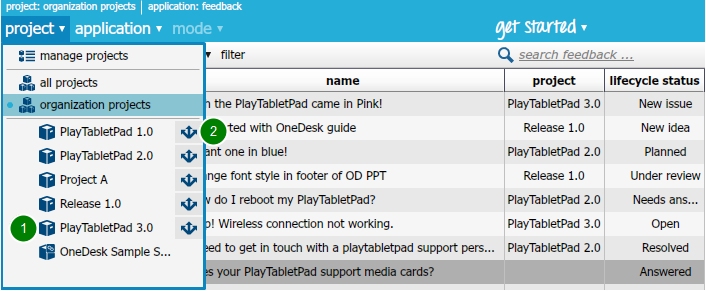 Selecting organization projects, as well as an application allows you to view information about items in only the projects owned by your organization.
You'll know that a project belongs to your organization if you see an "open box" icon (1).
Depending on your role, you can also share projects that belong to your organization by clicking on the share icon (2).
Related blog posts:
How to Use OneDesk's New User Interface