Push Invoices to Quickbooks from your Project Management Software:
In this quick guide we will show you how to push invoices to Quickbooks from OneDesk's project management.
What you will need for this:
Here's what you will need to set this all up, the list is quite short!
A OneDesk account (even the trial account).
A Zapier account.
A Quickbooks account.
The Developper's access link for our OneDesk application on Zapier:
https://zapier.com/developer/invite/42966/4e4907110b905debeb6a129130fa5c0b/
So, how do you push invoices to Quickbooks?
Zapier is an integration platform available through the cloud. Its purpose is to tie applications together via simple integrations based on a basic formula : If "Trigger" takes place in "platform A", then "Action" happens in "platform B".
In our case the integration we will be making is : If "new timesheet" takes place in "OneDesk", then "Create Invoice" in "Quickbooks". The idea is that, when you do work on a task, an invoice is sent to the customer for that job.

What are the benefits of this integration:
Integrations such as this one are meant to make your work simpler. Connecting platforms you use to avoid manual data input is a simple and easy way to make your workflows more streamlined. The versatility of the formula allows you to connect applications in many different ways, from pushing to pulling information out of one and placing it automatically into another.
In this case we are combining project management with budgeting and invoicing tools to allow you to automatically set up a process by which you push invoices to Quickbooks from your work done in OneDesk.
You could also do a couple other possible integrations between these two applications:
→ If a new Customer is created in OneDesk, create a new Customer in Quickbooks.
→ If a Container Update is made in OneDesk, create a Bill in Quickbooks.
→ If a new User is made in OneDesk, create a new Vendor in Quickbooks.
The step-by-step Guidebook:
the process of making a new integration in Zapier is pretty straightforward. Simply access your account on the site while making sure you have used the developper link to get OneDesk in the list of applications and find the "Make a Zap" button in the top right.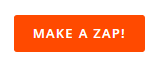 Then simply choose the two applications you want to integrate and the order of your formula. If we base ourselves on the formula we chose earlier it will look a little bit like this:
If new timesheets happens in OneDesk (Trigger), then create invoice in Quickbooks (Action).
That means that your trigger application (the first one to choose) should be OneDesk, and your action application should be Quickbooks.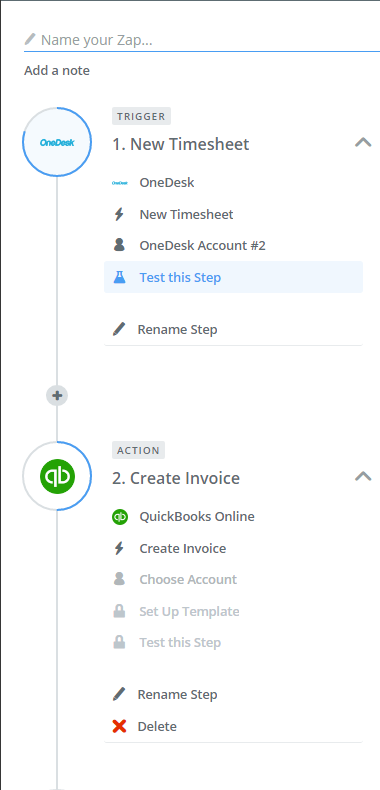 The process from then is as simple as can be. Select the trigger (new timesheet) for OneDesk and sign-in to your OneDesk account (remember even the trial account works just fine).
You will then have to select Quickbooks as the action application and select create invoice as the action you wish to see take place. The same process applies then, log in to your Quickbooks account and pick how things should be made in this platform. In the end just test the whole thing to make sure it works the way it should. If it doesn't work the way you'd like it you can always make changes to the options you've selected and get it the way you want it.
When you're all done just click the slider at the top right to activate your automation and start using it!

If you have any questions or would like more information on all the integration possibilities we offer, give our website a visit, or book a demo with us for a personalized one-on-one session!
Photo Credit: "Paper Cranes in A Basket" / Joshua Blount / CC BY