This update to OneDesk was released on August 28, 2021, and added the following new features:
New Application-Level Action Menus
We have re-organized the top-level tools menu to redistribute various tools to the applications they apply to. The new menu hierarchy should be more intuitive and works as follows:
Top-level "Tools" menu -> located in the top bar and contains tools and actions that are not specific to a given app or item.


Application-level "Actions" menu -> located at the top right when inside an application and contains actions that apply specifically to that app.


Item-level "Action" menu -> located next to the item when in the list view and applies to the currently selected item(s). Also located at the top right of the detail panel of an item.


Automatic Project Creation
We have created a workflow automation to automatically create a project whenever a trigger event occurs. This is useful when you want to quickly create a project from a template for a common customer project or automatically generate a project from a ticket.
To set this up, you can create a workflow automation
Set a trigger event (e.g. item creation or status changes on items).
Set the action to 'Create Project'.
Define the new project properties, whether they are inherited from the trigger item, which project template to clone, and the cloning options for the project's content.
When active, this automation will create a project automatically whenever the trigger event occurs. it may take a minute for the project to be created with its full contents.
Custom Chart Dashboard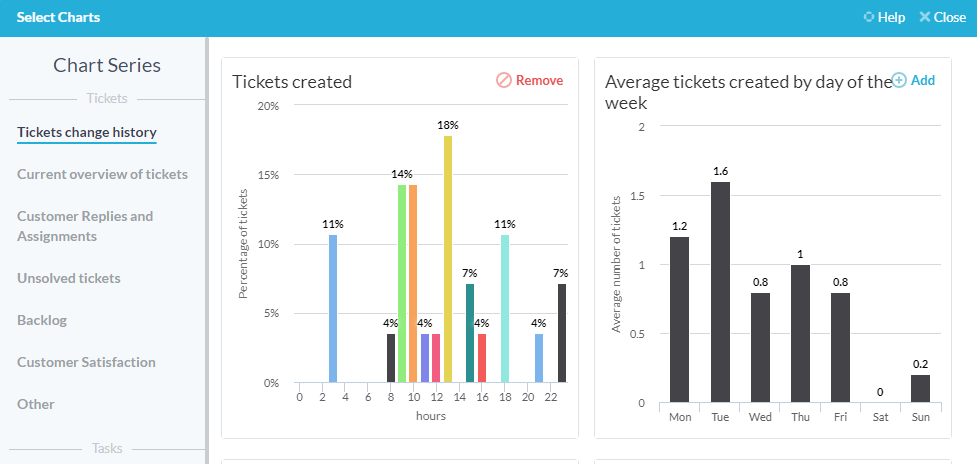 In the last release, we introduced the new Analytics app which centralizes and greatly extends the charts and graphs available to help you analyze how your customer support, project management, and teams are performing. In this release, we take it a step further by allowing you to create one or more custom dashboards of your most-used charts.
You can do this inside the Analytics application under the Charts tab. Click Create View to generate a new dashboard.
Here you can select the filters you want to apply to your data and select the charts you want to appear on the page. Once you save it, the view will appear on the left (like any view in OneDesk) for you to re-use in the future. You can also modify the timeframe in the top right without having to modify the view.
New Application-Level Permissions
We have updated our Application-Access controls so that you can grant application-level permissions to each of your users on a more granular level.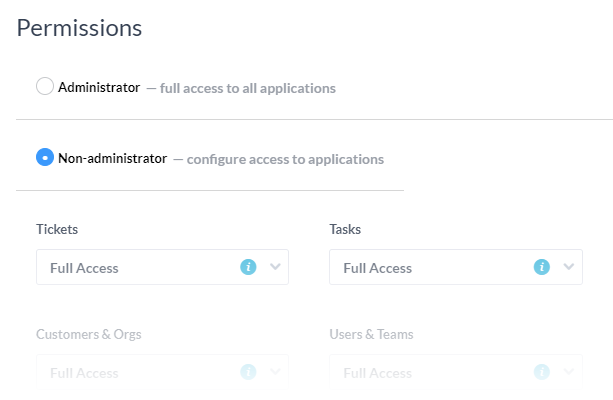 Now, for each user, you can select the level of access that you would like to grant them inside an app. Each app can offer limited-access and full-access, with some offering interim access levels. This means that you can remove access to apps or limit the functionality within an app for a specific user.
Here are some things you may want to know:
Administrators always have full access. If you want to limit access to an app, that user must be a non-admin.
Currently, each app has 2 to 3 levels of access. We are open to adding more interim levels so please request one if you have a use-case for it.
Given the differences in functionality between each app, every access level for each app has its own specifics. Please read the info-tooltips for details.
Don't forget that you can also limit permissions on a per-project level, so please verify that you have set both the app-level permissions and the project role correctly.
New Security Features
We have updated our security options as follows.
Stronger passwords: Our passwords now follow the latest NIST recommendations by requiring 8-64 characters and disallowing commonly used passwords.
Timeouts: Now your users will be automatically logged out of their OneDesk accounts if they are inactive for 3 hours.
More coming soon.
Plus over 200 other bug fixes and enhancements.