Using social marketing to increase Black Friday (or any holiday) sales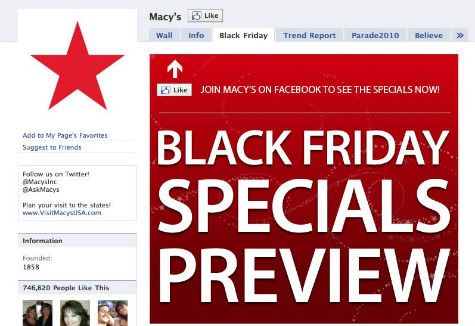 As the Black Friday shopping mania kicks off the holiday shopping season, retailers are doing their best to target their most loyal customers, including social customers.
In today's tough economic environment, many retailers are depending on social marketing to make their Black Friday sales surpass those of their competitors.
In this article, CCSocialmarketing.com predicts that retailers who are effective in using social media are likely to be smiling much more when they ring up their cash registers at the end of Black Friday.
Social marketing helps retailers reach out to their customers and acquire new ones. In the age of "Web 2.0," more and more consumers are turning to the online world to look for the best shopping deals.
According to Jan Rezab, CEO at Socialbakers, "Savvy retailers are combining traditional banner ads and web pages dedicated to Black Friday specials with Facebook posting and Tweets about deals, coupons, merchandise, and hot tips. This enables them to interact and respond to consumers instantaneously – offering them a massive competitive advantage that converts to increased sales and loyalty at Thanksgiving."
Retailers who are already using social media and have a lot of Twitter followers and Facebook likes are at advantage, assuming they have already leveraged the channels, engaged with customers and offered incentives like special deals.
The ability to interact in real-time with social media is powerful. It enables businesses to engage in two-way conversations with customers. Retailers can be there for customers, whether they have a question, a complaint or an idea. Knowing that companies are listening makes a difference in customers' behaviors.
In this article, Henry Kim, Co-Founder and President at skeekpeeq, "Retailers can better integrate social into their holiday plans by using the social tools that are available the right way. Social isn't about putting a shopping tab on a Facebook page. Merchants should 'lead' with the social tools – sharing, suggesting, etc. – that translate well into shopping and let Facebook and social media consumers shop naturally."
According to research conducted by Responsys, a leader in email marketing, retailers were sending more email campaigns as Black Friday approached. Top online retailers increased their rate of promotional email by 8% two weeks before Black Friday and 69% are sending these messages on Friday. In 2010, Responsys found a 45% increase in Thanksgiving Day email campaigns; this helped push online Thanksgiving Day sales by 28%.
Social marketing with OneDesk
We at OneDesk are firm believers in using social marketing to generate sales leads. Our social monitoring tool and interactive customer feedback application allow businesses to maximize interaction with customers, foster two-way communication and drive customer loyalty. Read the related blog posts and tutorials below to learn more.