Task Management Software
One of the key duties in project management is the management of the individual project tasks. Using software for task management empowers anyone to step in and manage a task as it progresses through its lifecycle. From planning, through execution and testing, and eventual deployment, task management is there every step of the way to help teams identify key moments when changes are needed. By using software to do this, channels are opened up to allow for collaboration across distributed teams and a wide view on all of the tasks being managed. OneDesk's Tasks application enables the management of tasks on a straightforward platform that can account for all of the changes and flexibility needed over the course of a project.
Having an app for task management allows users to manage tasks on the go and not be bound by software installed on a particular device or by more traditional pen and paper tracking methods. Although the OneDesk web application is accessible on any modern browser, our mobile app can also be used for task management on the fly. The freedom of being able to manage tasks in any environment is crucial for distributed teams and quick decision making. Whether using the web portal or mobile application, task management software empowers its users to easily manage their work without being bound to a single physical location or set of tools.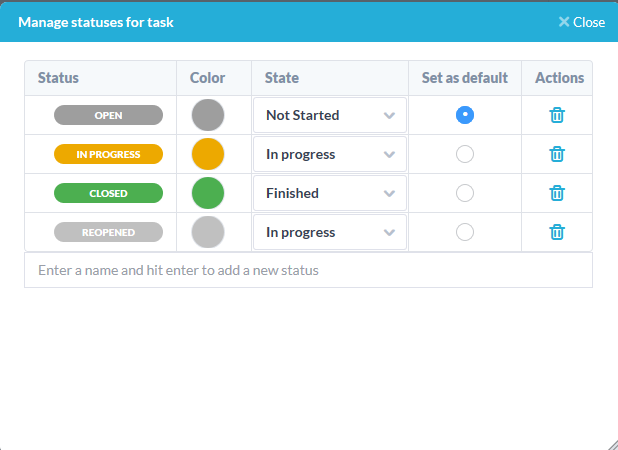 Task Management System
In order to enjoy the benefits of using software for task management, a solid system needs to be in place. All aspects of task management need to be accounted for in this system, including prioritization, delegation, tracking, and reporting. From knowing who is working on the task of being able to look back at timelines and previous estimates, task management requires views and details at various levels. Having all of these areas part of one system keeps work focused and visible. Using such a system enables project managers to ensure that problem areas are identified early and addressed quickly so projects don't veer off track.
At the core of any task management system is the concept of a task. In OneDesk's task management application, a task is a work item, part of a larger project, that contains all of the details needed for work to begin on it. Along with the default details such as priority and description, custom fields can be created as well to capture all kinds of information. Tasks also have an assignee field, which can be populated with whichever user is doing the work. Another detail about tasks is their current status. Along with a handful of statuses OneDesk has defined, custom statuses can be denoted. Together, statuses can be chained into a workflow. This workflow outlines all of the different lifecycle phases that a task can be in so its progress can be tracked. Depending on how granularly these statuses are defined, it can be very clear what the particular state of work is for any given task. In OneDesk, automations can be set up around workflow statuses, making task management a self-sufficient system.
Beyond the active management of tasks, having the right views of the work can unearth key insights. Our task management system has a number of views by default, including Gantt, tree, and calendar views. These views each have specific functions that surface different gaps in productivity and efficiency. Using filtering and some criteria, custom views can be created to show more in-depth details on a particular project's tasks. In combination with custom fields, these views can lead to some powerful reporting capabilities that can be shared with users and non-users alike.

Task Tracker Application
Knowing what the status of any given task at any given time is one of the key aspects of task management. In order to track a task through its lifecycle, there are two key components: distinct statuses and a workflow connecting these statuses. Using a task tracker, both of these components can be defined and serve as the basis for understanding the current state of any given task. In OneDesk, every task or ticket type can have its own set of statuses that form a workflow. These statuses are customizable, so even tasks with specific and distinct lifecycle stages can have their state accurately captured.
Task tracking apps give visibility into the status of work at every stage. In OneDesk, task tracking can even be automated. Once a workflow is set up, workflow automations can be configured to trigger based on particular criteria. When trigger conditions are met, an action that the user defines is kicked off. The range of options for the criteria that can be defined varies from having particular values entered into a field to status changes, and actions range from sending messages to transitioning a task through the workflow. Custom fields can also be used in these criteria, giving users the ability to automate a task's movement through its workflow in a variety of ways.

Task Tracking Template
For cases when certain kinds of tasks come up over and over again, it makes sense to introduce efficiencies in how these tasks are tracked. By setting up a template that can be used repeatedly, the common details can be preserved without having to be entered each time. OneDesk's Tasks application allows for this templating functionality with our cloning feature. This can be done at the project level — which can be handy for sets of task templates — or at the task level. Our users can fill out all of the details on a task that they want to use as their template, and when they need to create subsequent tasks that follow this same format, this original task can be cloned. Any task can serve as a template, which gives a lot of flexibility when users know they need to track the number of similar tasks but have not yet had the chance to fully define their template. Because task templates are just tasks, it is straightforward updating this template as requirements change, and it does not require learning a new process or view in order to do so.