Task tool spotlight: Using the tools button to upload CSV files
The "tools" button is one OneDesk's most popular features. When it comes to managing projects and tasks, this task tool can save you many hours of work. Imagine needing to manually enter hundreds of tasks. That can take hours, or even days of work! OneDesk's task tools button allows you to import tasks (or issues, or requirements) from CSV files.
Where is the tools button?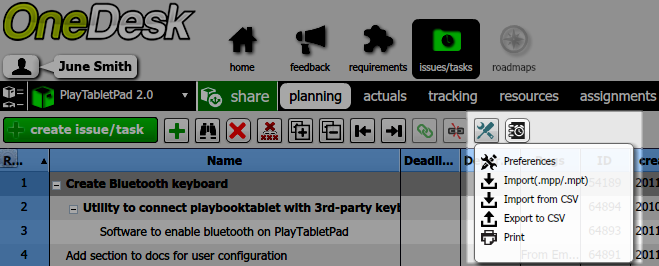 You can find the issue/task tool button under the issues/tasks tab in any sharespace. Likewise, there is also a tools button in the requirements view. Take a look at the screenshot above – it looks like a set of tools.
Uploading CSV files with the tools button
It's easy to upload CSV files to bring your items into OneDesk. Simply click on the tools button in the issues/tasks or requirements view, and select import from CSV. Then, just browse for your file and import!
Important note about the date format
When uploading CSV files, ensure that the dates in your file are in the following format:
Year – First three letters of the month – day. Eg: 2012-May-23
Got questions about uploadling CSV files or about any task tool in OneDesk? Ask away! Email us at hello(at)onedesk(dot)com, Tweet us, Facebook us or find us on LinkedIn.