OneDesk's requirements management application allows you to easily manage and analyze requirements and help you make decisions as to which should be prioritized. Here's a quick rundown of how this can be handled in OneDesk.
Manage your requirements
In the management mode, simply plan your requirements out.

1. Creation
Requirements can be created from scratch by simply entering them in the grid, or importing them from a .csv file. They also be created from feedback, ideas, or help desk tickets.
2. Planning
Assign it to a team member, link them to organization strategies, and attribute financial properties.
3. Adding details
Add additional details as well any attachments so that your team can get a full understanding of them.
4. Collaborate on them
Collaborate on them with team members by holding discussions.
Analyze your requirements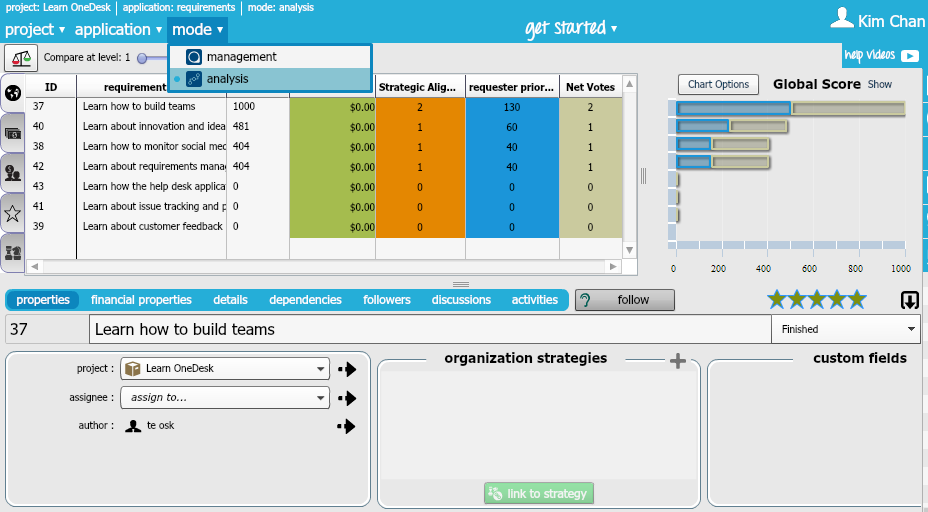 Switch to the Analysis mode and find out which requirements would help your company most.
1. Set analysis weightings
Click on the scale icon and set importance weightings. In other words, tell the system what your company values, and to what degree. Choose between strategic alignment, popularity, customer satisfaction, cost benefit. On the Global Score tab, you will find a combined ranking based on the relative weightings you assign to each of the four analyses.
2. Analyze the charts
View the charts on each tab. Each chart corresponds to one of the four analyses. By viewing the charts, you will be able to tell which requirements would help your company reach its targets.
See it in action by viewing this video.

Related blog posts:
Five Software Requirements Process Facilitation Tips
Product requirements management 2.0