The Jan 2021 Release of OneDesk was rolled out on Jan 23 2021. It included the following features and enhancements:
Subtasks and Linked items
We have introduced new ways to link items to each other. This extends the previous "linked items" navigation link that was found in the item detail panel. There are currently 4 link-types supported. They are:
Subtask: Items linked as subtasks represent work that should be performed prior to being able to complete the current item. Note that these subtasks do not have to sit below the parent item in the list-hierarchy, but can be in any position in any folder in any project. Subtasks do not actually have to be tasks, but can be any type of item.
Related to: Items that are related to others have no pre-defined meaning. Use this link-type when the others don't apply.
Duplicates / Is duplicated by: Indicates that the items duplicate each other.
Blocks / Is blocked by: Indicates that one item cannot be worked on before another is completed.


More details on the item detail panel
We made a big step forward in usability on things that are linked to an item. Now you will find tabs under the conversations section of the detail panel for the following:
Timesheets: See the timesheets logged on this item. You now start timers and create timesheets in this tab.
Activities: See the activities (change history) on this item.
Subtasks and links: See the items related to this one.
Multi-Language support (in pre-beta)
In this release, we are experimenting with machine translation of the UI. You can switch languages for your entire organization under Administration > Company Prefs. You can change just your own language in your user profile. Since the language is translated by machine rather than a human, we expect a few badly-translated terms.
If you see any badly-chosen translation terms in your language, please let us know and we can add the correct terms to the glossary.
Currently we have translations for English, French, Spanish, Portuguese and Italian. If you want another language, just ask and we may be able to add it.
There may be cases where the translation runs long and is truncated to the extent of being meaningless. if you have a suggestion on a shorter way of saying this, please let us know.
Thanks to all our users who contribute suggestion here. We really appreciate it!!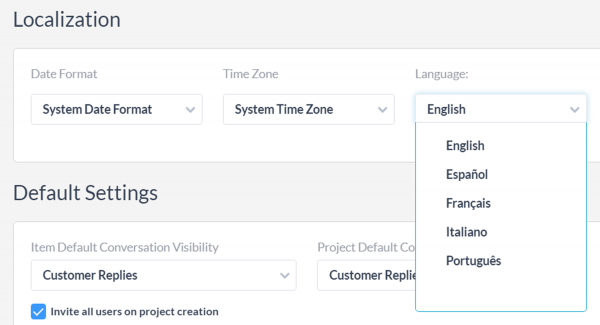 Details on which automation performed which activity
This is a small but important enhancement. Now the activities which are performed by a 'Workflow Automation' in your account, will show which automation was responsible. This should help users identify and fix workflow issues which arise from using automations.

Other Enhancements
New faster search
A new permission to prevent a user from replying to customers from within OneDesk.
New permission: Prevent editing sent messages
New Filter "latest message contains"
New automation action "close conversations" for either public or private conversations (or both).
API rate limiting improvements
Over 150 bug fixes and enhancements.